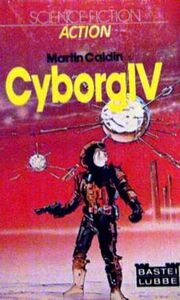 Martin Caidin: Cyborg IV
German translation of: Cyborg IV
Translated by: Rosemarie Hundertmarck
Published by: Bastei-Lübbe, Bergisch-Gladbach (Germany)
Year of Publication: 1979
ISBN: 3-404-01122-8
Price: DM 3.80
Blurb: Der Traum vom Fliegen ist so alt wie die Menschheit selbst. Dabei sind unsere Flugzeuge nur ein Kompromiß, der uns glauben läßt, wir beherrschten die Luft. Noch kennt jedoch kein Mensch das Gefühl eines Vogels, der vom Wind getragen frei und ungehindert durch die Atmosphäre gleitet. Der Cyborg Steve Austin will als erster dieses waghalsige Experiment durchführen. Er will "fliegen" wie ein Vogel!
Ad blocker interference detected!
Wikia is a free-to-use site that makes money from advertising. We have a modified experience for viewers using ad blockers

Wikia is not accessible if you've made further modifications. Remove the custom ad blocker rule(s) and the page will load as expected.