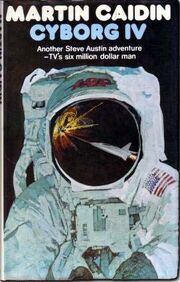 Cyborg IV was the fourth and final Martin Caidin-penned novel of the Cyborg series. Its original publication came in April 1975 by Arbor House Publishing. In this original edition, it was subtitled, The "Six Million Dollar Man" in a space adventure of the near future even though, like the other novels written by Caidin, the book follows a different continuity than the TV series. Its first paperback release came in 1976, when it was the sixth and final numbered entry of the Six Million Dollar Man Warner paperback series
Ad blocker interference detected!
Wikia is a free-to-use site that makes money from advertising. We have a modified experience for viewers using ad blockers

Wikia is not accessible if you've made further modifications. Remove the custom ad blocker rule(s) and the page will load as expected.