(Oct 14-28, 1962)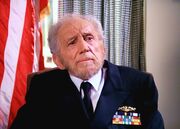 Oct 14 - A US U2 aircraft takes photos over Cuba, which depict sites for medium-range and intermediate-range ballistic nuclear missiles under construction. The Cuban Missile Crisis commences.
This crisis is part of the Cold War.
Steve flies reconnaissance missions over Cuba during the Cuban Missile Crisis ("Target in the Sky").
Oscar Goldman serves as Executive Officer for Intelligence under the command of Admiral Richter during The Cuban Missile Crisis. They spend four days and nights on duty during such crisis ("Kill Oscar (Part III)").
According to the US Ambassador John MacNamara in Nassau, the air raid alarm in the US Embassy is changed to a fall-out alert during the Cuban Missile Crisis ("Bionic Ever After?").
Oct 28 - An agreement is reached between US and USSR. The crisis is over.
Admiral Richter and Oscar then go out and get drunk together ("Kill Oscar (Part III)").
After this tense crisis, US and USSR agree to install a red telephone hotline between Washington DC and Moscow, enabling leaders of both countries to communicate promptly and directly in urgencies and crises. This sets the stage of détente in the 1970s.
Ad blocker interference detected!
Wikia is a free-to-use site that makes money from advertising. We have a modified experience for viewers using ad blockers

Wikia is not accessible if you've made further modifications. Remove the custom ad blocker rule(s) and the page will load as expected.