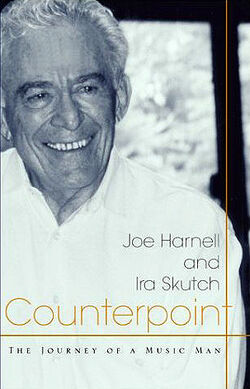 Counterpoint - The Journey of a Music Man is the autobiography of Bionic Woman composer, Joe Harnell.
Promotional
Amazon Description:
Counterpoint is the life story of Joe Harnell, Grammy and Emmy award-winning pianist, composer, arranger and conductor. He was musical director for such stars as Frank Sinatra, Maurice Chevalier, Marlene Dietrich, Judy Garland, Peggy Lee and Pearl Bailey, as well as The Mike Douglas Show. His smash hit instrumental record of "Fly Me to the Moon" was a landmark, setting a new standard of performance in the record business. Among many others, he composed and conducted the scores for TV series like The Incredible Hulk, The Bionic Woman, and V, and also a number of movies of the week. His story is filled with revealing insights and anecdotes about the many stars and musicians he has lived and worked with, some funny, some sad, some appalling. Although his professional life ran smoothly and successfully, his perilous personal journey ran over rutted roads through three failed marriages and a tortured battle with booze, eventually emerging into the calm of sobriety and the exhilaration of a fulfilling relationship. Joe's book gives the reader a new, intimately known friend, whose candor and understanding will remain in memory for years to come.
Ad blocker interference detected!
Wikia is a free-to-use site that makes money from advertising. We have a modified experience for viewers using ad blockers

Wikia is not accessible if you've made further modifications. Remove the custom ad blocker rule(s) and the page will load as expected.