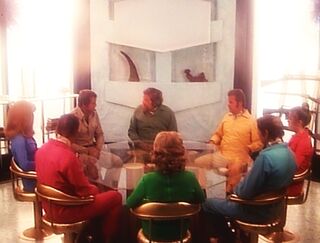 The "Colonists" (a.k.a. "Bigfoot Aliens" because of their control over Sasquatch) are an unnamed group of extraterrestials who have been active on earth since the early 18th century.
The colonists are represented by Shalon, Gillian, Apploy, Faler, Nedlick and Sasquatch. (The Secret of Bigfoot, The Return of Bigfoot). In all of the known encounters of this extraterrestial race, the name of their world or their species is never mentioned. 
They have established two bases on Earth.  The first base was established in A.D. 1726 and is located in California near the Angelo branch of the San Madrian fault.  This group is led by Apploy.  This group of colonists are scientific explorers and have taken extreme precautions to keep their presence on Earth hidden.  The cyborg Sasquatch creature, which represents a lower life form from their planet, is used to cultivate mystery and fear in an attempt to keep humans away from the colony. 
The Colonists have developed an advanced form of bionics known as nyosynthetics.  Nyosynthetic technology is powered by an anti-matter source known as mergeron.  The Colonists have also developed a technology known as a Time Line Converter that is able to alter their individual progression through time relative to their surroundings.  (The Secret of Bigfoot)
The second base of Colonists is located in Mexico. This group is a rebel group led by Nedlick, who is joined by the colonist Faler.  They abandoned their scientific pursuits and instead attempted to use their technological superiority to dominate the Earth. The rebels took control of the Sasquatch in order to construct their new base. (The Return of Bigfoot)
Known Colonists
Colonist Technology
Examples of the advanced technology of the alien colonists include the following:
Colonist Homeworld
The location of the Colonists' homeworld is unknown.  Other details regarding the name and history of their people is also unknown. 
Ad blocker interference detected!
Wikia is a free-to-use site that makes money from advertising. We have a modified experience for viewers using ad blockers

Wikia is not accessible if you've made further modifications. Remove the custom ad blocker rule(s) and the page will load as expected.