The Bionic Timeline - A Chronology of The Bionic Universe
Pre-historic Ages
The Bionic Universe encompasses events in thousands of years temporally (inter-galatic travelling time not taken into account) and spans civilizations as far as beyond our Milky Way Galaxy spatially. Although this backdrop does not exert as heavy impacts on the Bionic World as some earthly events such as World War II, it does broaden the viewing horizons of people in the Bionic World and challenge the imaginations of people viewing their adventures. This backdrop is summarized below.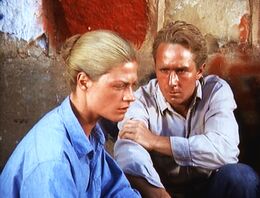 7th Century BC
15th Century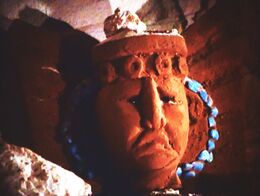 16th and 17th Centuries
North America - The Era of European Colonization. Old World diseases such as influenza, smallpox and measles spread. The indigenous Indians have no immunity against these diseases, and their number drops. However, their culture, spirit ("Out of Body"), rituals ("To Catch the Eagle"), and taboos ("The Night Demon") pass on.
North America - European colonization also threatens the survival of some native animals, such as the cougar ("Taneha", "Claws").
Ojai the valley - The Chumash Indians call the valley Ojai, which derives from the Ventureño Chumash word awhaý meaning moon.
18th Century
1726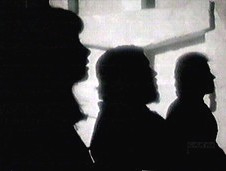 A group of alien scientists set up a colony within the San Andreas mountain region. They use a Time Line Converter to speed up their own individual progression through time (two years), relative to their surroundings (250 years) ("The Secret of Bigfoot").
1774
1776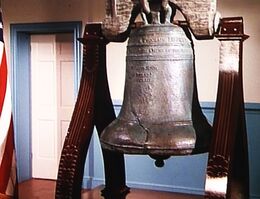 1779
1789
19th Century
1837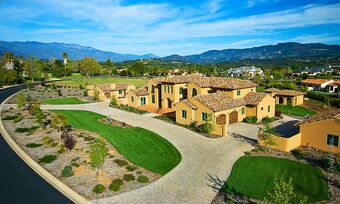 Ojai the valley - A cattle ranch is established. The valley becomes part of the Rancho Ojai.
1843
1864
Ojai the valley - The area is settled.
1872
1874
Ojai the town - The town in the valley is laid out, and named Nordhoff, California. It is 15 miles inland of the Pacific coast, 745 feet above sea level.
1877
1895
1899
A breed of large-sized, strong, and intelligent dogs is raised in Germany. They are capable of obedience training, and are thus fit to complement the police and for military roles. They become known as Deutscher Schäferhund in German, literally meaning German Shephard Dogs ("The Bionic Dog").
20th Century
1901
1904
1906
1909
1910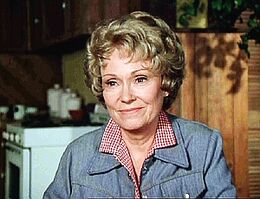 1911
1912
Helen (maiden name unknown), the future Mrs. Carl Austin, then later Mrs. Jim Elgin, is born.
Note: This speculation is based on actress, Martha Scott's year of birth.
World War I (1914-18)
As a whole, World War I exerts significantly less impacts than World War II or the Vietnam War on the Bionic World. The impacts of this war on the Bionic World are listed below.
Jul 28, 1914 - Austria-Hungary invades Serbia. World War I commences.
1914 - German U-boats (submarines) are launched. U-boats including U-509 will make their way into World War II and into the Bionic Era ("U-509").
Chemical weapons is a major component during World War I, although the casualties caused by such are likely to be limited. The use of chemical and biochemical weapons will continue to be a threat in World War II and the Bionic Era ("Wine, Women and War", "U-509").
Oct 31, 1914 - Fort MacArthur is created as a training center during the World War I (mentioned in "The Pyramid").
Ojai the town - Owing to anti-German sentiment during the World War I, some German and German-sounding place names in the US are changed. As part of this trend, the town Nordhoff is renamed Ojai in 1917. Since then, Ojai is used to indicate both Ojai town, California, the home town of Steve Austin and Jaime Sommers, and the Ojai Valley, the larger area in which the town is situated.
The names of some individual institutions are not changed. An example is the public high school in Ojai which is known as Nordhoff High School before and after World War I. Jaime and Steve might study there later ("The Bionic Woman").
1918 - Owing to anti-German sentiment too, the German dog breed Deutscher Schäferhund is renamed by the UK Kennel Club as Alsatian wolf dogs, or simply wolf dogs ("The Bionic Dog").
1916
1917
Ojai the town - A fire destroyed much of the downtown. A new downtown is built, with a bell-tower and a pergola opposite the arcade, frequently depicted in SMDM/BW episodes.
1918
1919

Rudy Wells is born in 1919-30. He will be trained as a medical doctor and a scientist. An alma mater of his is in Austria. Further details on his background and education are unclear ("Dr. Wells is Missing").
Note: The 11-year range is due to the different years of birth of the three actors who played him - 1919 for Martin Balsam, 1925 for Martin E. Brooks, and 1930 for Alan Oppenheimer.
1920
1922
1923
1927
May 03 - James Sommers (Jaime's biological father, future OSI agent) is born ("Jaime's Mother").
A 22-year old Miss Evelyn Thomas, living in Philadelphia, Pennsylvania, is revived 27 seconds after she is pronounced dead. She dies six months later ("Dead Ringer").
1928
A group of aliens from the peaceful planet Zana lands on an island in the Pacific. They use power pods from their space ship to set up a force field to prevent intervention by Earth people, as they have no immunity against bacteria on Earth. Their energy source will last for about 50 years ("The Lost Island").
1929
1930
1931
1933
1935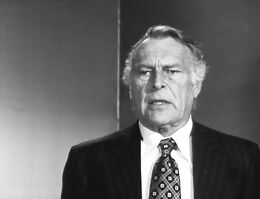 1937
1938
1939
1941
Note: The production designer on the episode "The Ghostly Teletype" made an error on the date of Steve's birth on his driver's license giving the date of birth in 1942.
1944-45
Oscar is likely to be in college then. He befriends Bert Carrington. Carrington later believes that he himself is better than Oscar at just about everything - he is better in school, in sports, with women, except when it [comes] to money ("The Midas Touch").
World War II (1939-45)
World War II exerts profound impacts on the Bionic World, as listed below.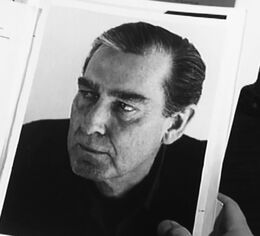 Some time during World War II, Henry Bulman and his troops, Her Majesty's Royal Navy, are caught in shallow water off Sicily. The Germans bomb them for seven hours ("U-509").
1941 - Off the Tunisian coast, Henry Bulman's submarine sinks four enemy troop transports in four hours. 15,000 men are drowned ("U-509").
Some time during World War II, Robert Meyer becomes the top demolition man for the Allies ("The Price of Liberty").
During World War II, Grand Tooley is used as an air corp base ("The Vega Influence").
Dec 22, 1941 - The Japanese attacks the Philippines.
Gabella (the father of Tomas Francisco Gabella), is one of the most famous Philippine Scouts during World War II. Gabella fights the Japanese in the Philippines ("The Last Kamikaze").
May 06, 1942 - Japan captures the Philippines.
Feb 1943 - A plane My Little Girl is dispatched to Chungking, with pilot being Captain Carl Austin, the father of Steve, and the co-pilot being Christopher Bell. On board is a secret agreement between the Nationalist Chinese and the Russians. Halfway across the Himalayas, the plane and its fighter escort are attacked by zeroes. The plane never makes it. It is believed that Carl bails out when the attack starts, leaving the crew to die ("The Coward").
The Princess, an armored truck run by Harry Walker in an African country, goes all the way through World War II ("African Connection").
14-inch naval guns are being installed at Ford MacArther for potential conflicts with the Japanese Imperial Fleet should California be under attack (mentional in "The Pyramid").
Tomas Gabella is raised in the Philippines during the World War II. He learns Japanese, and will later be of help in recovering lost Japanese soldiers ("The Last Kamikaze").
Oct 1944 - Japan begins sending out Kuroda with some 4000 Kamikaze on suicidal attacks on Allied fleets. Before diving, Kuroda hesitates and misses a ship he is targeting, and crash-lands in a Pacific island ("The Last Kamikaze").
Aoki, the navigator of Kuroda, commits Seppuku ("The Last Kamikaze").
Apr 1945 - Submarine U-509 is transporting six Nazi war criminals to South America. She goes down off Nova Scotia when a patrol plane damages her steering. It is believed that she is crammed to the gunnels with a highly toxic nerve gas ("U-509").
May 08, 1945 - Germany surrenders.
1942-45 - Dr. Samuel Abbott is involved in the Manhattan Project producing atomic bombs. He starts to know John Belson ("Operation Firefly").
Aug 06, 1945 - US drops atomic bomb at Hiroshima.
Aug 09, 1945 - US drops atomic bomb at Nagasaki.
Sep 02, 1945 - Japan surrenders, leaving Kuroda in the Pacific island ("The Last Kamikaze"). World War II ends.
Nov 1945 - Post-war investigation. A report reveals that there is no nerve gas on board the U-509. The gas is a ruse to keep the Allies from attacking her. The validity of this report is yet to be established ("U-509").
1951-66 - Post-war investigation. Oscar spends 15 years trying to prove the innocence of his brother Sam who disappears with a quarter of a million dollars during the attack on the Pearl Harbor ("Iron Ships and Dead Men").
1946
1947

1948
1949
Apr - Henry Bulman is discharged from Her Majesty's Royal Navy ("U-509").
Jun 22 - Jaime Sommers is born. She will be The Bionic Woman.
1950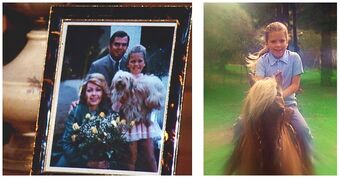 1951
Oscar joins the Navy Intelligence, probably related to his wish to investigate the death of his brother Sam during the attack on the Pearl Harbor. It appears that Sam uses the attack as a diversion to disappear with a quarter of a million dollars ("Iron Ships and Dead Men").
Trish Hollander is born ("The Golden Pharaoh").
Robert Meyer graduates from the MIT. He will then pursue further studies and attain doctorate in Cal Tech ("The Price of Liberty").
1952
1953
1954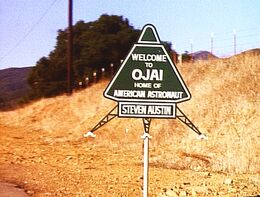 Some time during middle school, Steve meets Jaime (the exact year is unknown owing to a difference of eight years in their ages). Jaime dares Steve to eat one of everything in the cafeteria, and Steve gets pretty sick. Some time later, Steve sticks a lizard onto the back of Jaime as she is swinging in the park ("Welcome Home, Jaime").
The school might be Matilija Junior High.
Steve graduates from middle school.
Some time in his childhood, Steve camps with friend Ted Sullivan, who has been bitten by a rattlesnake, applies first aid by Ted himself, and walks away ("The White Lightning War").
Steve goes to a high school in Ojai, 20 miles from a small town Norris ("Population: Zero").
The high school is likely to be Nordhoff High School.
The Bull Frog Mine, Nevada, has not been actively worked on since then ("The Midas Touch").
The Vietnam War (1955-75)
The Vietnam War exerts significant impacts on the Bionic World. These impacts are listed below.
Nov 01, 1955 - The US Military Assistance Advisory Group Vietnam is established. The Vietnam War commences. David Hallaway ("Task Force"), Major John Cross ("Beyond the Call"), General John McAllister ("Bionic Showdown"), Peanuts Donnely ("Population: Zero"), and Steve Austin will serve in various stages of the war.
Some time in the early years of the Vietnam War, childhood friend of Steve Peanuts Donnely from the small town Norris is killed in the war ("Population: Zero").
1963 - Steve spends several months flying choppers during the Vietnam War until his chopper is shot down.
Some time during the Vietnam War, David Hallaway serves with the Air Force. He loses his stripes inciting a riot at a night club in Saigon. Hallaway is made a sergeant a year later. Caught selling airplane parts, he is court-martialed. Steve sits in the board that convicts him ("Task Force").
Some time during the Vietnam War, General John McAllister orders an air strike against his own position, because it is being overrun by the Viet Cong and there is no any other way out ("Bionic Showdown").
1975 - Major John Cross is on a covert mission in Vietnam when the South Vietnamese army collapses. He leaves his beautiful Vietnamese wife and daughter, Kim, in a village which he promises would be protected by a US armored unit. However, the tanks fail to get an order to move up, and there is a Viet Cong mortar barrage. Kim's mother dies in her arms, and Kim has not talked since. She is then taken care of in an orphanage in Saigon ("Beyond the Call").
Apr 30, 1975 - Fall of Saigon. The Vietnam War concludes.
1955
1956
1957
1958
Note: This would seem odd that Steve, a high school senior, kisses Jaime who is only nine years old at the time. However, it is revealed in "The Return of the Bionic Woman (Part II)" that this is not far from the truth. Steve: "Hey, look, you're talking to the guy who fell in love with her when she was eight years old."
Jaime: That [the kiss] was serious. Steve: You're right. Jaime: And I never have forgotten that kiss. ("The Bionic Woman").
1959
Steve with Larry Bronco plays a championship game against rival Stowe High School ("One of Our Running Backs Is Missing").
Steve graduates from high school.
Steve goes to college.
Steve plays football in college. He carries the ball for 250 yards in one game, a record of the year ("The Bionic Boy")
Steve plays college football against Frank Gifford ("The Bionic Boy").
In college, Steve Austin rooms with John Perry for at least two years, and writes a song ("The Song and Dance Spy").
Steve soon earns masters degrees in aeronautical engineering, geology and history. He has attended classes at MIT, and has taken advances science classes at other universities ("Operation Firefly").
Steve develops passions in wrestling, judo, aikido, gymnastics, fencing, and the Spanish guitar ("Operation Firefly").
Steve probably studies in the United States Air Force Academy at some point (a compliment from the pilot of a rescue aircraft in "Survival of the Fittest").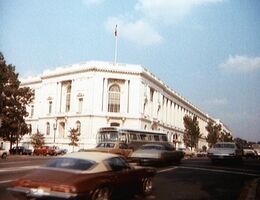 1960
Dr. Franklin begins his employment at the OSI.
Walter Krueger, a comedian at a nightclub in Chicago, witnesses a murder. He moves to Ojai and changes his name to Harry Anderson ("A Thing of the Past").
Dr. Leon Jackson, US scientist in solar energy, meets and falls in love with a USSR lady scientist during an international conference. He will soon defect to the Russians and marry the scientist. Later, Mrs. Jackson dies after giving birth to their only son Alex ("Divided Loyalty").
1961
Apr 16 - OSI undercover agents James and Ann Sommers, Jaime's parents, are killed (presumably murdered) in a car accident. Chris Stuart, the double for Ann Sommers, keeps on being a secret agent ("Jaime's Mother").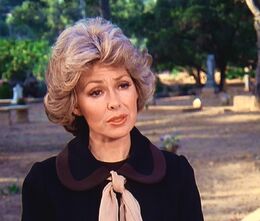 Note: The production designer on the episode "Jaime's Mother" made an error on the dates on James' and Ann's headstones, giving their dates of death as 1966.
Helen and Jim Elgin become the legal guardians of Jaime Sommers, then aged 12.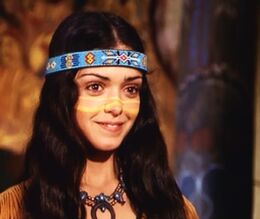 1962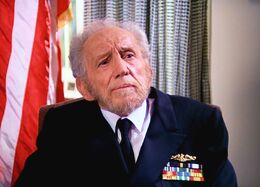 1963
1964
Note: The first pilot telefilm contradicts this by establishing Austin as a civilian, but his background is improvised to include an Air Force career in the subsequent pilot films.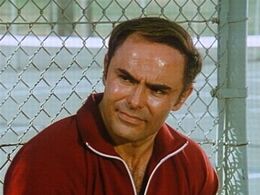 1965
1966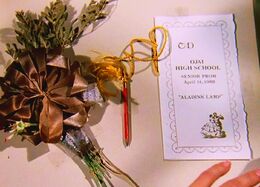 Apr 14 - Jaime's Senior Prom (Aladdin's Lamp) at Ojai High School; as seen in Jaime's scrapbook in "Deadly Ringer".
Jaime graduates from high school. Chris Stuart attends her graduation ("Jaime's Mother").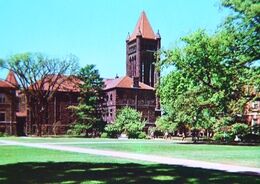 1967
Dr. Robert Meyer develops high blood pressure and experiences a severe heart attack. He is laid up for 18 months ("The Price of Liberty").
1968
1969
1970
Dr. Franklin's employment at the OSI is terminated after too many continuing conflicts with his superior, Oscar Goldman ("Kill Oscar").
Late 1970 - 71 - Max, a German Shepherd, is born (four months before bionic operation) ("The Bionic Dog").
1971
A government research project H-432 has been running for some time, involving an experimental weapon design with ultrasonic waves for infantrymen with battery pack. Owing to failure to solve power problems, the project is then abandoned. The Chief Project Officer is Dr. Stanley Bacon ("Population: Zero").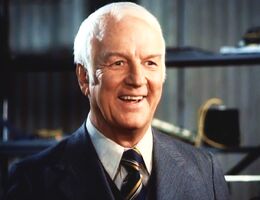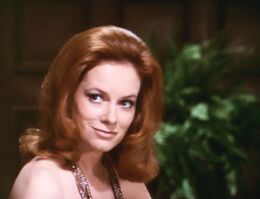 The wife of William Henry Cameron, a high-level US diplomat, dies ("The Solid Gold Kidnapping").
Feb 28 - Evel Knievel sets a new world record by jumping 19 cars with his Harley-Davidson XR-750 at the Ontario Motor Speedway in Ontario, California ("Motorcycle Boogie").
1971-72 - William Henry Cameron starts to have a relationship with Contessa de Rojas ("The Solid Gold Kidnapping").
1971-74 Jaime meets Jed Kimball at a Washington party. They dance all night. They drive down to Chesapeake Bay and sail all day. They then drive to Annapolis and have dinner at a little old inn with pewter plates ("Deadly Music").
Jul 1971 - Jan 1973 - Three projects in the Office of Scientific Operations (OSO) cost too many lives, too much money, and [are] unnecessarily risky ("The Six Million Dollar Man").
Dec - Bob Crandall buys his family some Christmas ornaments. He falls short of being able to repeat the gesture over the four coming years ("A Bionic Christmas Carol").
Dec 24 - Karen, Steve's ex-wife and Michael's mother, dies from pneumonia, in the little town called Placid Ville ("Return of the Six Million Dollar Man and the Bionic Woman").
Steve leaves Michael in the care of his sister-in-law, Michael's Aunt Mary in Seattle, Washington.
Steve and Jaime meet up for last time until they are reunited four years later.
1972
Oscar has since been trying to track down an international master criminal Quail who is taking the lead in black market arms and gold smuggling. Quail has his base in a neutral country. Oscar has tried through diplomatic channels, but has not been successful so far ("The Last of the Fourth of Julys").
Creigton from the Creighton Industries has a design of lifting body of his own for some time. He offers Carl Amison money and a position to kill the HL-10 project both in 1973 and 1974 ("The Deadly Replay").
Since then, Oscar has been warning Lisa Leitman, computer programmer of the OSI, that she is in danger of being kidnapped, to the point that her private life is intruded upon ("The Cross-Country Kidnap").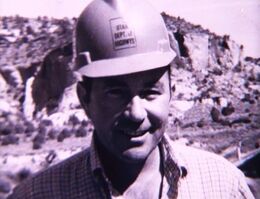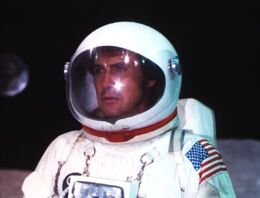 Note: "Wine, Women and War" identifies this mission as Apollo 19, while "The Moon and the Desert" version of the pilot refers to the mission as Moonshot XYZ.
Steve performs a series of successful experiments. He sets the record for longest single moonwalk at 7 hours, 37 minutes.
Dec 17, 2:24PM - Apollo 17 returns to Earth.
Steve Austin becomes a celebrity, as evidenced by a road sign near Ojai highlighting his name "Steven Austin".
At some point after the Apollo 17 (or 19) mission (but before the crash), Austin and his crewmates visit Moscow, where Austin meets Alexi Kaslov ("Wine, Women and War").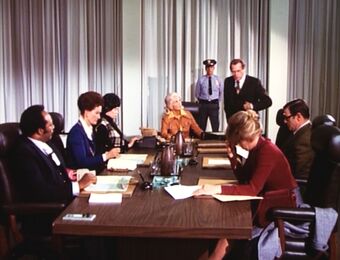 Note: The "pilot film" depicts this meeting as occurring simultaneously with Austin's crash.
Note: "The Moon and the Desert" depicts that the Apollo/Moonshot XYZ and the lifting body test pilot missions are 20 months apart, and that Steve makes two more trips to the moon during these 20 months.
The detailed files of Project Cyborg will be stored at Subterranean Level 2, Vault 7, of Rudy's laboratory ("The Seven Million Dollar Man").
1973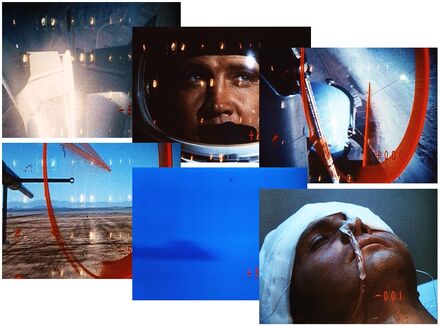 While Steve Austin is test piloting an experimental lifting body, a malfunction causes a crash. The malfunction is caused by sabotage ("The Deadly Replay").
Austin's injuries are so severe that he loses both legs, his right arm and is also blinded in one eye.
Steve has been clinically dead for 52 seconds ("Dead Ringer").
Steve is put into electro-sleep, a technology borrowed from the Russians, for more than 36 hours.
One of Austin's closest friends, Dr. Rudy Wells, a doctor and scientist, is a specialist in the emerging field of bionics. The technology of bionics is developed by Dr. Rudy Wells and his former partner/associate Dr. Jason Havilland ("Bionic Ever After?").
Oliver Spencer, who has recently proposed the Cyborg Project to the OSI's board of directors as a means of reducing agent casualties, is able to authorize the funding to take a severely injured Austin and rebuild him with bionics.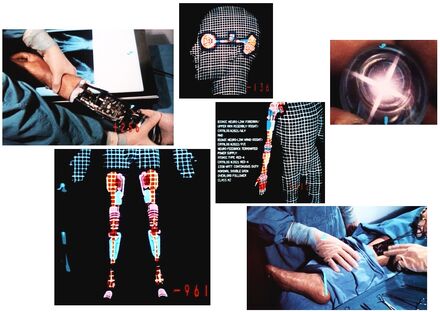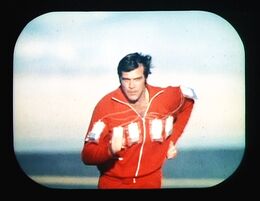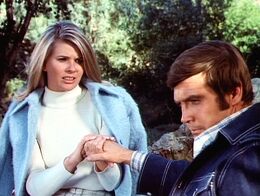 Rudy Wells is ordered to perform the procedure on Austin. The surgical procedures together with the rehabilitation and training take several months, though the exact length of time is not specified.
The costs for the procedures are at least the title-giving Six Million US Dollars as in 1973.
Regular quarterly psychological evaluation is necessary after the procedures at least up to November 1974 ("The Seven Million Dollar Man").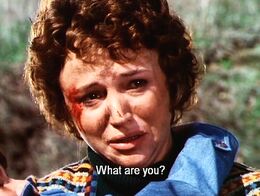 Steve employs his bionic power for practical use for the first time while rescuing a young child from the scene of a traffic accident. Upon seeing exposure of Steve's electronic parts, the mother of the rescued child asks "What are you?" Steve casts doubts on his identity as a cyborg.
Note: This event could be a direct mirroring of the event of Jaime being asked "What is that? What are you?" after saving a girl and then upon exposure of her electronic parts, in the last regular TV episode of the Bionic Woman "On the Run".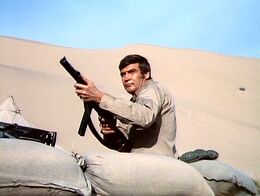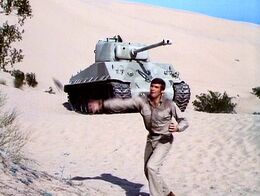 Steve undertakes his first mission for the OSI: to rescue a diplomat from a terrorist camp in Saudi Arabia's Empty Quarter. Austin parachutes down many miles from the camp and proceeds to run the distance, his newfound stamina sustaining him through the heat.
However, when Steve reaches his destination he learns that the hostage has been dead for several weeks. After he is taken prisoner, he begins to work out an escape plan with another hostage.
Austin and the second hostage manage to escape the camp by stealing an aircraft. Having sustained damage, he is reunited with Jean before being put into electro-sleep once again in order for Wells to repair the damage to his bionics.
Back home, Spencer confirms to Wells that Austin has been sent on a combined test/suicide mission to see if he's able to hack it as an agent. If he fails, Spencer says, they can always build a new bionic man.
It is highly likely, from the conversation of Oscar and Steve in "The Seven Million Dollar Man", that Oscar is alerted to the trial-and-error nature of this first assignment of Steve.
Oscar Goldman is appointed director of the OSI, succeeding Oliver Spencer.
Major Fred Sloan has developed an anti-missile missile defense system to intercept short-range missiles, necessitating as little as three minutes advance warning of an approaching enemy missile. Early performance of the system is erratic. Major Sloan spends one year in 1973 and designs a microwave circuit card, which is the activator, and a separate ignition unit. Unless the activator card is plugged in, the ignition unit is useless. The system is then failsafe ("Day of the Robot").
Oscar ruins a ski vacation of Lisa Leitman, computer programmer of the OSI, owing to security issues ("The Cross-Country Kidnap").
Max has since then been confined to West Coast lab kennel for observation ("The Bionic Dog").
Jan-Sep - Steve has been involved in no NASA activities of any substance ("Wine, Women and War").
Jan-Sep - Steve is in the same building with Oscar Goldman on 11 separate occasions ("Wine, Women and War").
Mar - Dr. Erica Bergner starts letting one of her experimental rats to try out a particular maze. This rat needs eight months to learn. Some of the brain cells of this rat will later to be implanted into the brain of another rat, who would know the maze immediately without any further learning processes ("The Solid Gold Kidnapping").
Apr 03 - One hundred kilos of fissionable materia is smuggled out Kiev ("Nuclear Alert").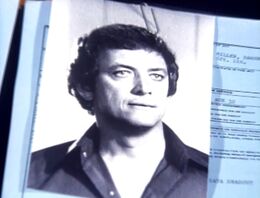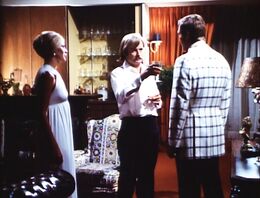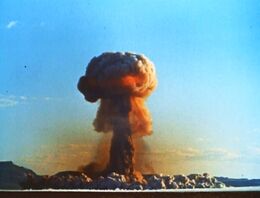 After a mission to steal an arms dealer's catalog in Egypt goes wrong, resulting in the death of lover Tamara, Col. Steve Austin is resentful when Oscar Goldman tries to get him to go back into the field.
Harry Donner, USAir Force officer and friend of Steve, lures him to a vacation home in the Bahamas. Soon, Austin meets up with a Soviet colleague Alexi Kaslov in the resort.
(As narrated by Kaslov) - At the night when Arlen Findletters, nuclear weapons dealer, has his ship mysteriously blew up, Steve is seen leaving the zone by means unknown (by submarine).
(As narrated by Kaslov) - Steve arrives at the Bahamas aboard a flight on which an office in Washington specifically requested a seat next to the Soviet Undersecretary of Special External Security.
(As narrated by Kaslov) - Once in Bahamas, Steve's lodgings are conveniently [placed] next door to Soviet mission.
These events turn out to be arranged by Donner, who is actually working for Oscar Goldman. Oscar pushes Austin in the direction of arms dealer Arlen Findletter, effectively making Austin continue the mission.
Kaslov assigns Soviet agent Katrina Volana to keep Austin out of the way while Kaslov negotiates an arms deal with Findletter. Steve soon finds his way out.
Upon realizing Donner's duplicity, Austin punches him in the mouth, but then agrees to work the mission, alongside another OSI agent, Cynthia Holland.
Donner, believing Austin being an amateur when it comes to the spy game, conducts his own investigation into Findletter. However, Austin soon points him on the right path and tasks him with warning a US submarine that its crew is in danger of dying from a poisonous gas planted by Findletter.
Sep 12 - Steve finds Findletters. His friend Alexi is killed. Steve causes a nuclear detonation, and kills Findletter and all his men, with revenge for his lover Tamara and friend of his Alexi in mind.
Note: This is one of the few circumstances in which Steve kills many people in one go. In the subsequent TV series, Steve and especially Jaime are portrayed as trying their best not to kill anyone.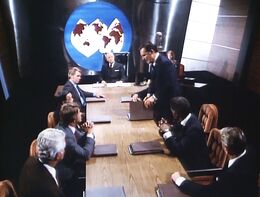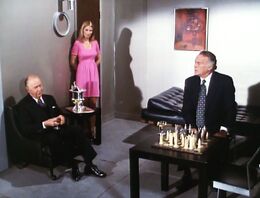 The leading US international negotiator William Henry Cameron is taken from a Paris hospital by the crime organization The Company. The ransom demand is $1 billion in gold. Roger Ventriss, a gang member, is murdered by an embittered colleague Julian Peck, and this leads to the only potential lead.
Dr. Erica Bergner has developed a new method of transferring brain cells - and therefore memory - from one human to another. She offers to be the recipient of cells from the dead Ventriss in the hope that this will lead to her identifying where Cameron has been taken.
Steve and Dr. Bergner travel to Lucerne, Switzerland in response to images that Dr. Bergner has seen following the cell implant. Dr. Bergner's implant leads them to meet the Contessa de Rojas at a Casino. The Contessa has been the link between the kidnap gang and Cameron.
Back at Dr. Bergner's lab the rat test subject begins to suffer and fail, and Rudy Wells pleads with Oscar to let him warn Dr. Bergner that she may be next.
Aboard a ship, The Chairman of The Company plays chess with Cameron, who comes to suspect that he will never be released. Meanwhile OSI Agent Mel Bristol bird-dogs the gold, but The Company makes a switch - they have Cameron and the gold. Later, Dr. Bergner begins to suffer side effects to the brain cell transplant but she is eventually able to lead Steve and Oscar to a freighter. Here Steve locates Cameron and frees him. He also captures the Chairman of The Company.
1973-74 - Viktor Cheraskin, a pilot with the Russian Air Force, starts inventing an anti-equilibrium device which will render foot soldiers dizzy and faint, long enough to be captured and disarmed without being injured. His aim is to develop a humane way to stop bloodshed in war. The project will cost 30 million dollars ("Walk a Deadly Wing").
Late 1973 - Two attempts are made to get the activator of the anti-missile missile defense system ("Day of the Robot").
Late 1973 - Blueprints for the atomic furnace mechanisums were reported missing from Paris ("Nuclear Alert").
Late 1973 - early 1974 - Steve is in space with the Russians. During this time, Oscar is negotiating with the Russians on something else. A lot of countries would like to stop these negotiations, which they could by killing Oscar ("Survival of the Fittest").
1974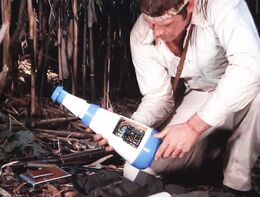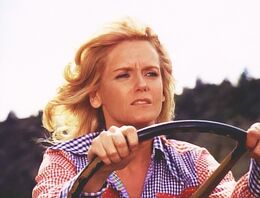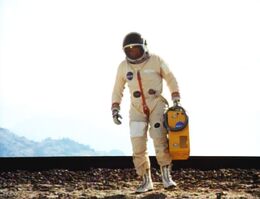 Jan 18 - "Population: Zero" - A high frequency device immobilizes all population in a small town. Steve demonstrates the zoom function of his bionic eye for the first time. He also realizes that his bionics are impaired by low temperatures. He encounters Dr. Stanley Bacon, former Chief Officer for a government research project, for the first time.
Jan 25 - "Survival of the Fittest" - Oscar and Steve are trapped on an isolated island in the Pacific, after an accidental air crash. There are a number of survivors and Oscar, fearing that some people do not want his talks with the Russians to succeed, is convinced that one or more of them want to kill him. His fears soon come true when a renegade Air Force Major Ralph Cromwell and Navy Commander Ted Maxwell lure him deep into the island. When Oscar is subsequently shot Steve desperately seeks help to save him not knowing that a third traitor is present within the group. Steve soon realizes that his bionic equipments can be used as cautery for a surgical procedure to save Oscar. A mirror remake of this episode - "Fly Jaime" - will air two years later.
Feb 02 - "Operation Firefly" - Steve searches for wireless laser inventor Dr. Samuel Abbott kidnapped and held ransom in Florida Everglades. The daughter of Dr. Abbott - Susan - lends him a hand with her Extra-Sensory Perception (ESP). Dr. Abbott wrongly put his trust on John Belson, whom he has known for almost 28 years.

Feb 08 - "Day of the Robot" - Dr. Chester Dolenz makes his debut in the show, producing a robot duplicate of Major Fred Sloan who has developed the anti-missile missile defense system. Steve encounters a robot for the first time. Major Sloan makes his first and last appearance in this episode, as he will appear as robot only in flashback in "Run, Steve, Run" two months later.
Feb 1974 - Apr 1975 - Dr. Chester Dolenz remains uncaptured ("Run, Steve, Run").
Feb 22 - "Little Orphan Airplane" - The pilot of a US plane catches on photograph weapons and men being supplied to one side of an African country Katara in civil war, which is a direct violation of the existing treaty. The plane went down. Steve travels to Katara to retrieve the film to be shown to the United Nations. He locates the pilot Josh Perkins, and the damaged plane with the help of two nuns, and must repair the plane for takeoff before local mercenaries can stop him. One of the nuns, Sister Anneti, happens to be a big fan of Dale Robertson starring in a TV series Tales of Wells Fargo, and timely adopts a plot in the TV series to deal with the local mercenaries in order to protect Josh and Steve. After the conflicts, Steve arranges Sister Anneti to meet up with Dale Robertson in person as a token of thanks.

Mar - A crashed plane uncovered by an earthquake is detected by a weather satellite. The pilot should be Carl Austin, father of Steve Austin. The site is two miles from the Chinese border. Secret documents should still be there. If Chinese Communists get hold of the papers, it could destroy the delicate balance of peace between Russia and China then ("The Coward").
Mar 01 - "Doomsday, and Counting" - Steve accompanies friend of his Colonel Vasily Zhukov to save Vasily's

fiancée

under the ruins of a self-destructing nuclear weapon installation in the USSR. Russian scientist Irina Leonova makes her debut.
Date of the telegram Jaime sends to Rona confirming her appearance at his tournament.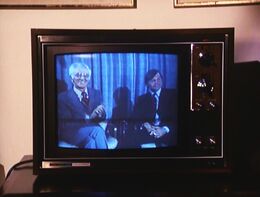 Mar 08 - "Eyewitness to Murder" - In this debut appearance of John Hopper, Steve witnesses a murderer walking away with solid alibi. This murder attempt is actually made on special prosecutor Lorin Sandusky who will present evidence against racketeer Victor Ritchie. Only with keen observation through his bionic eye does he discover that Hopper is blessed with an identical twin brother.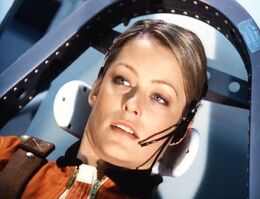 Mar 15 - "The Rescue of Athena One" - In this first appearance of Major Kelly Wood, she becomes the first woman in space. However, a blast damages her ship. She docks the crippled space capsule with the orbiting Skylab, then waits for the arrival of a rescue team and doctor. However, the explosion has jammed the capsule's hatch, trapping Woods and Osterman inside. Steve realizes that zero-gravity impairs his bionic powers. (He will later learn that putting himself into negative Gs is also fishing for troubles.) Calvin Billings (Capcom), capsule communicator of the space center, makes his first appearance.
Mar 29 - "Dr. Wells is Missing" - Wells, while presuming to travel to Austria to receive an honorary doctorate degree from his alma mater, is held captive in an isolated island by Alfredo Tucelli, a businessman and crime lord. Dr. Wells is pressed to release the secrets of Bionics. Help from one of his equipments is round the corner.
Apr 12 - "Burning Bright" - Astronaut Josh Lang finds himself capable of communicating with dolphins after he encounters an unearthly electromagnetic field in space. He fails, despite the help of Steve, to let go an unpleasant childhood memory of his, leading to a tragic outcome. Josh can be said to be the second person in the SMDM/BW series with ESP, as he can perceive the thoughts of Calvin Billings and a Deputy Sheriff. We might say that his powers after the electromagnetic exposure go beyond ESP, as he also controls motor power functions of others. Calvin Billings reprises here.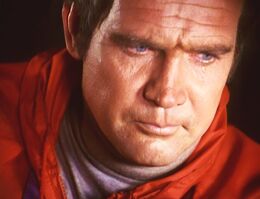 Apr 19 - "The Coward" - Steve travels to retrieve secret documents from an aircraft crash site in the Chinese border, and to investigate whether his biological father Caption Carl Austin does bail out of the aircraft during the Second World War. Steve is initially assisted by the experienced local climber Chin-Ling, and later by a tribe leader who discloses the facts of his father's final days to him. Helen Elgin, Steve's mother, makes her first appearance here.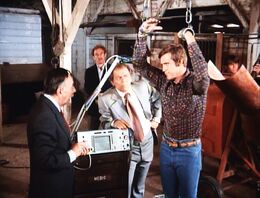 There are various time points in this episode. Oscar clearly mentions that Tomorrow is the first of July after the various training programs of Steve. We thus put the date of the episode at Jun 30.
Jul - Sep - Scientists David Tate and Nicole Simmons take a cell regeneration serum developed by themselves, and commence their cryogenic sleep in their space capsule. Their planned duration of cryogenic sleep is one year ("The Pioneers").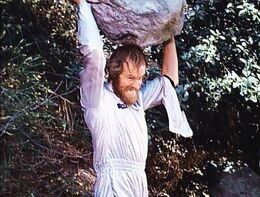 Sep 13 - "Nuclear Alert" - Steve and atomic bomb scientist Dr. Clea Broder are abducted and brought on board an aircraft together with an atomic bomb to be delivered to a foreign nation. Apart from retrieving the bomb, Steve also has to race against time as the Air Force is intercepting the plane.
Sep 20 - "The Pioneers" - David Tate and Nicole Simmons have their space capsule crashed, and awaken from their cryogenic sleep, only to find that excessive serum dosage renders David in a hyperactive and aggressive state.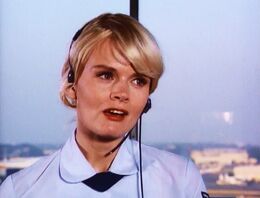 Nov 01 - "The Seven Million Dollar Man" - Steve Austin meets Barney Hiller, the world's second bionic man, who encounters difficulties to make the best use of his bionic powers. Nurse Carla Peterson becomes the love of Hiller.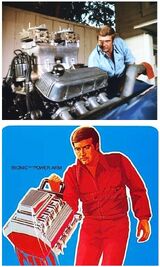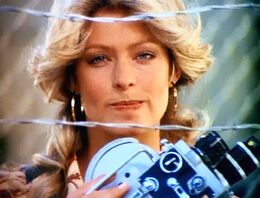 Note: "Act of Piracy airs on Dec 06. However, Steves wishes Julio, a member of the anti-government forces in Santa Ventura, Merry Christmas. We thus postulate that this adventure occurs in late December.
Note: Ford presides until Jan 20, 1977, long before the "Deadly Countdown" crisis.
1975
It is highly likely that Victoria Webster is then working in a major broadcasting company in Washington, as refereed by Oscar ("The Peeping Blonde").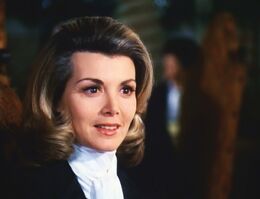 Jan - Oscar commences establishing a cover to spy on Marius Stenger, an international dealer of counterfeit bills, arms, and military secrets ("The Ultimate Imposter").
Jan - Oscar sends agents to a Pacific Island to recover the nuclear warhead Peregrine I lost in a plane crash. The agents are attacked as they approach the crash. The only survivior of that plane crash reports that he sees a wild man in a Japanese uniform taking the warhead from the plane ("The Last Kamikaze").
Jan 10 - "The Cross-Country Kidnap" - Lisa Leitman pioneers a computer program to communicate with a network of international agents. When she rides a horse in an cross-country match anticipating entry into the Olympics, Steve is assigned as her bodyguard.
Jan 17 - "Lost Love" - Steve's romantic heart beats for his ex-love and now presumably widowed Barbara Thatcher, some six months before arrival of his true love Jaime into the scene.
Jan 19 - "The Last Kamikaze" - Steve is sent to retrieve a nuclear warhead in a remote South Pacific island. He has Tomas Gabella who knows the area well and knows Japanese as his guide. Steve will soon meet Kuroda - a Japanese Kamikaze pilot who is convinced that World War II is not over.
Jan 26 - "Return of the Robot Maker" - Dr. Dolenz resurfaces one last time with a new robot duplicate of Oscar Goldman in tow. Goldman is kidnapped and replaced with the robot impostor (the first time Goldman being replaced by a robot). The robot successfully steals several OSI top secret files until Steve solves the case and defeats the robot. Dolenz is finally taken into custody by the authorities.
Feb - "The Bionic Woman" Prologue - Steve is sent to Europe to retrieve a stolen $20 bill printing plate that was stolen from the Denver mint. His mission eventually leads him to the Hungarian border where he observes a wealthy crime-boss Joseph Wrona and his right-hand man Timberlake as they purchase the money plate.

Upon the transaction, Steve pursues the Wrona's armored truck and eventually hops on back and breaks the strap lock around the case. The break in triggers a security alarm that only the driver and his passenger can hear. Wrona gets a good look at Steve through his night vision telescope and orders Timberlake to double back while Steve runs off with the case containing the plate.
They search for Steve but was unable to catch him due to his bionic speed. Wrona believes he's seen Steve's face before and swears he will not rest until he finds him and kills him.
Note: The events of this incident is seen during the opening prologue of SMDM "The Bionic Woman (episode)". During the latter half of "The Bionic Woman (Part II)" when Joseph Wrona finally catches up to Steve, he specifies that it's been seven months since he stole his printing plate.
Feb-Jun The Secretary of the Treasury would like to present a plaque to Steve for his recovering the stolen $20 bill printing plate ("The Bionic Woman").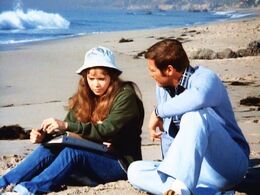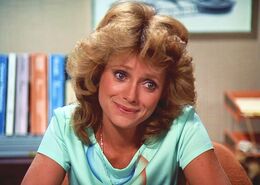 Note: The episodes "Outrage in Balinderry" and "Steve Austin, Fugitive" were both produced and set before the events on "The Bionic Woman" but for reasons unknown, they were broadcast after "The Bionic Woman", which falsely gave the impression that Steve got over Jaime's death too quickly.
Jun - Oscar starts to notice that secret information is leaking out from the OSI. He will soon notify the Secretary ("Clark Templeton O'Flaherty").

Jun - An Air Force plane crashes, killing both pilots who are known to Steve ("The Bionic Woman").
Jun - Jul - "The Bionic Woman" - Steve Austin relocates back to Ojai and buys a ranch. He meets up with his mother Helen Elgin and step-father Jim Elgin (who makes his appearance in as late as this episode). Steve and Jaime are reunited after four years of no contact.
Joseph Wrona screens photos of all Interpol agents, none of whom found to be resembling his foe ("The Bionic Woman).
Steve: Now, about that kiss we were talking about. Jaime: What about it? Steve: No more footballs. Jaime: No...' ("The Bionic Woman").
Steve: It's been fun, Lots of laughs, Jaime. It always is when friends meet again. But lately, it's gone flat for me, Jaime. I don't like seeing you now and then. Our friendship is finished that's true. But there's hope, a way to make it through. Because, sweet Jaime, I love you. I never want to say goodbye to you.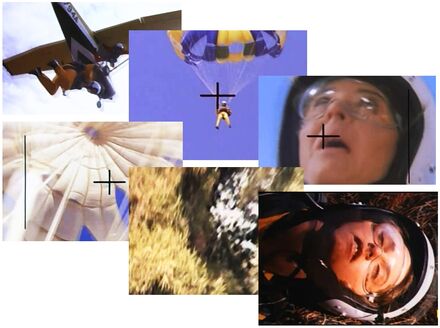 Jaime sustains a near fatal skydiving accident. Oscar approaches General Fuller for authorization to rebuild Jaime with bionic enhancements.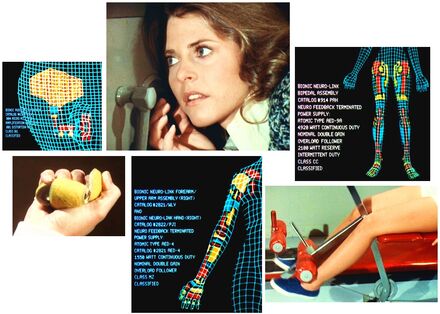 Dr. Rudy Wells administers the operative procedures.
The costs for the procedures are probably a little less than Six Million US Dollars, as, according to Oscar, [Jaime's] parts are smaller.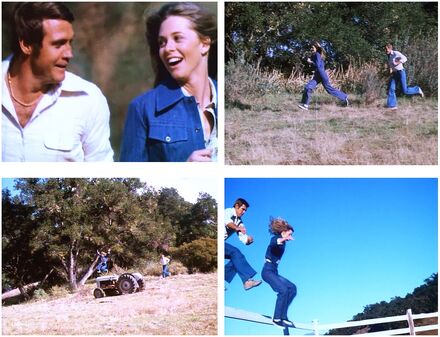 Jul - "The Bionic Woman (Part II)" - Before Steve returns the plate that is stolen from the Denver Mint, Janus Banakowski figures a way through computer technology to make a duplicate plate. He has delivered the plate to Joseph Wrona. After months of training, Jaime Sommers goes on her first mission for the OSI, to recover the plate.
Despite a fight with Wrona and his gang, the bionic couple do recover the plate. They fly back to Ojai to arrange their wedding.
Jaime develops spasm on her bionic arm, and severe headache. Rudy diagnoses a blood clot in her brain owing to bionic rejection. An elective operation is planned to remove the blood clot.
Jaime finds her headache intolerable, and flees from the hospital. Steve brings her back for emergency operation.
Before a hole can be made on Jaime's skull, Jaime succumbs on table due to massive bleeding inside the skull. Steve: I love you, Jaime. I've always loved you.
Unknown to Steve Austin, however, new cryogenic technology is used to keep her body functions active until the blood clot is repaired.
Jaime remains unconscious for months, during which time Wells and his team nearly lose her on five separate occasions. Wells and Goldman choose not to inform Austin of any of these.
Austin and his parents mourn the loss of Jaime, whose death appears to become public knowledge (based upon comments in "The Return of the Bionic Woman").
Aug - Rudy Wells undergoes a complete image makeover including a hair transplant. (Note: How else could we account for Rudy's drastic change in appearance?)
Aug - Oscar Goldman starts to protect Prince Sakari of a hostile neighboring country ("The Deadly Test").
Aug 20 - Space probe Viking 1 is launched to explore Mars (mentioned in "The Pyramid").
Sep - The bionic legs of Steve should have accumulated 20,000 mileage by then ("The Return of the Bionic Woman").
Sep 09 - Viking 2 is launched (mentioned in "The Pyramid").
Sep - "The Return of the Bionic Woman" - Still grieving the loss of Jaime, Austin undertakes a routine mission but a freak accident causes massive damage to his bionic legs, forcing him to be airlifted to Wells' bionics facility in Washington where reconstruction takes place. Before falling unconscious for several days, Austin sees Jaime Sommers lying in a hospital room.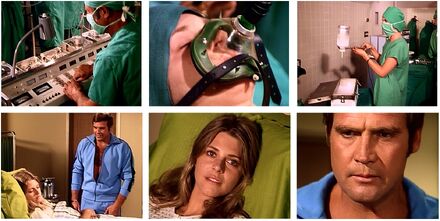 Based on dialogue in "The Return of the Bionic Woman" an undisclosed amount of time passes during which Austin recuperates; he is wheelchair-bound for at least a week. During his time in the wheelchair, he spots Jaime again but is unable to get Wells or Goldman to believe him.
Some time later, Austin regains the ability to use his legs and during a practice run once again spots Jaime and is finally able to convince his friends to tell him the truth. At this point (early September) Jaime has been conscious for only two days and it is discovered that she has sustained a certain level of amnesia. Specifically, the sensory, motor, and language regions of her brain are functionally intact, but some degree of damage has occurred to the temporal lobes of her brain, which govern memory.
Jaime and Steve kindle a new relationship as he mentors her in the use of her bionics. Dr. Michael Marchetti, meanwhile, develops a liking for Jaime.
Note: At some point during the preceding events, both Steve and Jaime are evidently relocated to another bionics facility in California, based upon its proximity within driving distance to Ojai and visible geographical features inconsistent with a DC locale; it isn't the Colorado Springs facility, as this is defined as a different location in "The Return of the Bionic Woman (Part II)".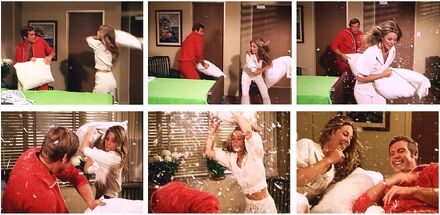 Steve: Sweet Jaime I'll love you forever. I know we'll never part. I love you like I've loved no other. Make room for me in your heart.
Austin and Jaime travel to their hometown Ojai in hopes of sparking memories, without apparent success as attempts by Jaime to remember her past life result in pain-memories of her blood clot. This forces Jaime to be briefly hospitalized at the local Air Force hospital where Wells and Marchetti have set up shop.
Jaime requests to be sent on an OSI mission and is sent into the field with Austin (the mission requires her to parachute jump for the first time since her accident). Her memory problems, however, cause her to fail the mission, but not before attracting the attention of industrialist Carlton Harris. Austin decides to step back from his relationship with Jaime, and she is sent to Wells' Colorado Springs facility (with Marchetti) for further recuperation. (Sommers and Marchetti end their relationship at a later date).
Oct - Helen and Jim Elgin bought a ranch (three months before "Welcome Home, Jaime").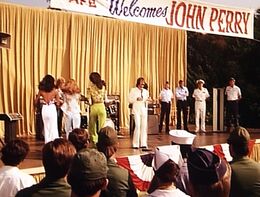 Nov 09 - "The Bionic Criminal" - Barney Hiller's bionics are temporarily reactivated to assess the outcomes of reactivation-deactivation. In a rage, he believes himself having killed an automobile figure. His wife (Carla, his previous nurse) is captured as hostage. Barney resorts to engage in criminal activities.
Nov 16 - "The Blue Flash" - Steve becomes a longshoreman to follow the lead of a missing OSI agent. Being smuggled are ultra-sensitive detecting devices, which Steve can detect by moving his bionic hand over such, with a blue flash being beamed to his bionic eye. He soon retrieves the tins with the detectors, and rushes to take one tin to liberate a nice lady held hostage. Steve also lends his bionic hand to repair a damaged toy bike, being too late to regret that more damaged toys are on their way for a bionic reconstruction too.
Nov 23 - "The White Lightning War" - Ted Sullivan, childhood friend of Steve, is killed by a snake bite as an agent. Steve braves to explore the small Georgia town which is being monopolized by a Bo Willis. Assisted by a kind woman Middy, whose husband is previously killed by snake bite too, Steve fights against a snake bit gang which extends connections all the way to Washington.

Note: In circa late 1975 to early 76, for reasons unknown, Rudy Wells records a recollection of the events surrounding Austin's crash, including detail of his prior moon mission (referred to by Wells as "Moonshot XYZ") and his first OSO/OSI mission. This refers to the narration heard in the "Moon and the Desert" version of the pilot film, which ends with Wells stating that three years had passed since Austin became bionic.
1976
A satellite is sent up. The nation's Missile Defense Program depends on it. It will soon malfunction ("Deadly Countdown").
Torpedoes and nuclear missiles are stolen in Boston Navy Yard. The FBI will later have a suspect, but the stolen weapons are never recovered ("Sharks").
OSI agent Joan meets an old Chinese mystic in the Far East. He put magic in her fingers in the craft of massage ("Target: Steve Austin").
Alexei Ivanovich Mestroff, father of the Russian agent Andrea Mestrova, is killed by Steve Austin in an attempt to penetrate the OSI armory. Mestroff is carrying experimental explosives. Steve surprises him. Mestriff runs, and it detonates ("The Moving Mountain").
Santos, an ideological terrorist, hijacks the Gatwick Airport, leading to eight killed, 23 wounded, and a 747 blown up. Santos gets away clean, with half a million British pounds ("The Moving Mountain").
Lyle Cannon joins the Mount Harding Observation Station. He studies holographic projection in the station. He will soon be alerted from satellite images that precious Uranium ores exist below the Indian burial grounds of Thomas Bearclaw. He soon leaves the observatory, and launches his plan to acquire the land ("The Night Demon").
Max the bionic dog has been acting kind of lazy. Rudy and Oscar [attribute] that to maturity and age ("The Bionic Dog").
Kyler Industries propose that Oscar might fund the development of a Directed Energy Ray Weapon, a high-intensity fluoride beam that focuses and directs atomic particles at the speed of light, capable of destroying the Empire State Building from 23,000 miles out in space. Oscar tells Rod Kyler that it is too futuristic. Kyler is infuriated. The Russians have been investing millions in directed energy research, with alarming progress ("Fembots in Las Vegas").
Rudy Wells and Ray Fisk commmence a project to set up a control center for the most sophisticated tracking system in the world, to be located underneath a barn in Southern California. The area has the highest incidence of UFO sightings in the world. The sensitive tracking system is thus put into the the most strenous test in tracking UFOs, if any, there ("The Martians Are Coming, the Martians Are Coming").
Early 1976, OSI agent Jenny is successful in establishing a relationship with Lorraine Stenger, the daughter of the criminal boss Marius Stenger ("The Ultimate Imposter").
Jan - Steve Austin visits Rome. During his time there he sends his parents a post card which will eventually arrive at the Elgin's homestead while Jaime is moving in.
Jan - A Golden Pharaoh statue belonging to a small Middle East country Levant is trans-shipped from the Republic of Kalny before its US tour. A spectroscopic examination is performed at the US Embassy in Kalny, to the satisfaction of experts that it is genuine. The Vice-Consult then gets a call that there is a bomb going to explode in the embassy. All personnel are evacuated. It turns out to be a false alarm ("The Golden Pharaoh").
Jan - Lyle Montrose, chemist, begins to serve a year in Federal prison because of income tax evasion ("The Ultimate Imposter").
Jan 11 - "The Winning Smile" - Dr. Gene Finney, the dentist fiancée of Callahan, has his eyes glued on hydrogen fusion data ("H+2+O = Death") exclusive to OSI personnel.

Jan 11 - "Welcome Home, Jaime" (BW episode) - Jaime Sommers, having completed her rehabilitation in Wells' Colorado Springs facility, returns to Ojai where she teaches at Ventura Air Force Base in between OSI jobs. She also moves into a loft on Jim and Helen Elgin's ranch. Carlton Harris has discovered the bionic powers of Jaime. Jamie suggests to Oscar that she might arrange a falling out so that she can go to work for Carlton, who is suspected of selling government secrets. While stealing secrets for Carlton in an effort to gather evidence against him, Jaime befriends the industrialist's son, Donald, a law graduate who is bothered by his father's illegal activities. This episode marks the first appearance of her students Gwen and Joey, and fellow teacher Dee Timberlake.
Oscar and Steve leave Ojai to organize Steve's next mission.

Jan 18 - "Hocus-Pocus" - Mark Wharton's organization heists an armored car with $100,000 in payroll along with the Navy's top code book. The code book will fetch a hefty price in the international market. Audrey Moss reappears and teams up with Steve posing as magicians - with bionic powers and ESP - to impress Wharton and gain his confidence in the hopes of getting a lead on a purloined book.
Oscar returns to Ojai.
Jan 21 - "Welcome Home, Jaime (Part II)" (BW episode) - Jaime Sommers officially becomes a part-time OSI agent and one of her first missions pits her once again against Carlton Harris. Her student Teddy makes his debut in this episode, while Joey makes her final appearance.
Jan 21 - Steve is being in Thailand, meeting the King ("Welcome Home, Jaime (Part II)"). Note: He must be in a hurry after the "Hocus-Pocus" incident.
Jan 22-25 - A car is stolen with the aim of causing a deliberate accident to USSR gymnast Tanya Breski visiting the US (around three weeks before "Love Song for Tanya").
Jan 29 - "Angel of Mercy" (BW episode) - Jaime Sommers is sent to Costa Bravo with helicopter pilot Jack Starkey to rescue the American ambassador. Her students Andrew and Mark appear for the first time.
Oscar Goldman remains in California to rendezvous with Steve Austin to oversee a geological survey under way near the Californian San Andreas fault to test for any potential seismic activity.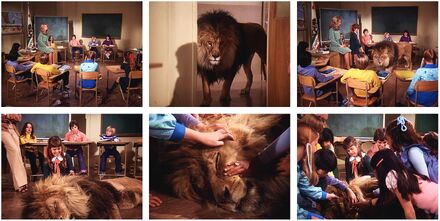 Feb 25 - "Claws" (BW episode) - While Jaime Sommers is left in charge of Susan Victor's wild animal ranch, she tries to save the life of a pet lion that is being stalked by irate ranchers. Recurring student character Mark makes his concluding appearance in the show, while Katie who assists in taming the lion Neil makes a head start.
Mar 03 - "The Deadly Missiles" (BW episode) - Jaime is assigned to investigate an old friend of hers, J.T. Connors, whose ranch may be the launch spot of a missile that lands close to Los Angeles. Steve, relieved of his police duties from "The Bionic Badge" and not yet taking up volunteer work with the Big Brothers ("Big Brother"), delights in collaborating with Oscar to assist Jaime. Teddy and Katie, students of Jaime, make their last appearance in the show.
Jaime travels to Washington to meet up with Oscar. She meets Steve. They plan to see each other again in the anniversary of Helen and Jim.
Mar 07 - "Big Brother" - Steve helps the Big Brothers organization in their promotional campaign and decides to take one of the boys, Carlos Delgado, under his wing. Carlos is anything but cooperative, but Steve finally makes some progress when he takes him up in a jet.
Jaime travels to Ojai.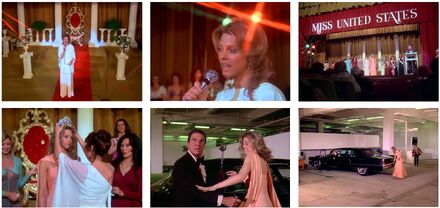 Mar 17 - "Bionic Beauty" (BW episode) - Jaime enters the Miss United States contest to investigate an attempt of another contestant Miss Florida to courier a Falcon Circuit out of the country. Helen Elgin takes up the role as Jaime's chaperon and undercover personal assistant. Apart from safely retrieving the Falcon Circuit, Jaime also takes up the throne of Miss United States herself, temporarily at least. Jaime sings for the first time in the series - the piece Feelings dedicated to her one and only true love Steve.
Mar 17 - Steve is being in Brussels investigating the loss of the Falcon Circuit, thus missing Feelings. Steve asks Oscar whether Jaime is seeing someone. Jaime asks Oscar whether Steve has asked about her ("Bionic Beauty").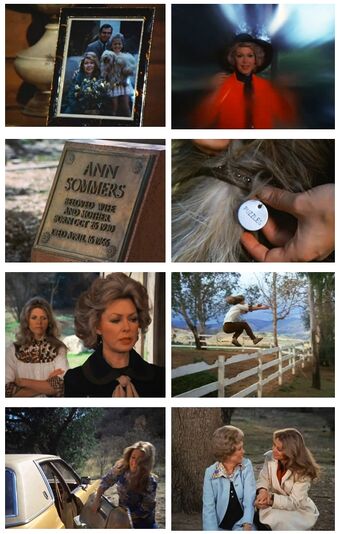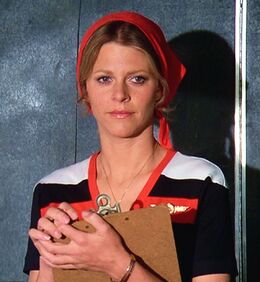 May 05 - "Fly Jaime" (BW episode) - A mirror remake of "Survival of the Fittest", with Jamie and Rudy substituting Steve and Oscar respectively. Jaime encounters Romero for the first time.
May 12 - "The Jailing of Jaime" (BW episode) - Jaime is arrested and jailed for being sold out by a Dr. Ellis Hatch who has created a vital decoder. This episode reinforces the special relationship between Oscar and Jaime.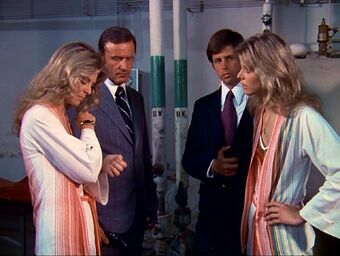 May 19 - "Mirror Image" (BW episode) - Jaime discovers that her bionic limbs do not tan. She encounters plastic surgeon Dr. James Courtney and her double Lisa Galloway for the first time.
May 26 - "The Ghosthunter" (BW episode) - Jaime becomes a nanny for Amanda Cory, daughter of a scientist who believes that strange happenings are haunting his household. Could such be related to one of the ancestors of Amanda being executed in witch-hunting?
May 30 - "The Price of Liberty" - Scientist Dr. Robert Meyer sabotages the Liberty Bell and demands five million dollars. Steve aided by past criminal Neils Lindstrom races against minutes and seconds to disarm a sophisticated time bomb, and has to decide whether the dying words of Meyer are sincere.
Note: Although "The Price of Liberty" first aired way back in September 28,1975 during the 3rd season of SMDM. However, given that the dialog specifically states that it is a month before the Bicentennial Independence Day, we place this episode here.
Jun - Steve Austin grows a moustache.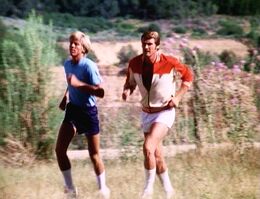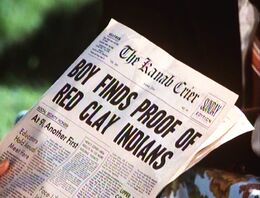 Jul - Aug - "The Bionic Boy" - Andy Sheffield, a once-athletic youngster living in a small Utah town, has been selected by an OSI computer to receive an implant to restore his paralyzed legs. The surgery is a success, but Andy has another issue in mind to make the best use of his apparatus - clearing the name of his father through finding the burial ground of Red Clay Indians in the Haunted Mountains.
Note: "The Bionic Boy" was the 7th episode to air during the 4th season. However, given the late Spring through late Summer time setting of the story, we place this episode before the events on the SMDM and BW "The Return of Bigfoot".
Sep - The government signs a contract with industrialist Horton Budge on life support systems to be used on Mars. The specifications are pretty soft.
Sep 01 - Philadelphia bomb squad captain Doug Witherspoon retires three months after helping save the Liberty Bell.
Sep 19 - "The Return of Bigfoot" - Gillian, an alien colonist from San Andreas mountain, makes contact with Steve Austin. She revives his memories of his previous encounter and enlists his help against their struggle against a group of renegade colonists and Bigfoot.

Sep 22 - "The Return of Bigfoot (Part II)" (BW episode) - Steve is beaten lies close to death in Rudy's facility. Jaime continues the investigation and then confronts Bigfoot on her way to retrieve an antidote to save Steve Austin's life. The bionic couple join forces again. Shalon, Apploy, Faler, and Gillian make their final appearances here.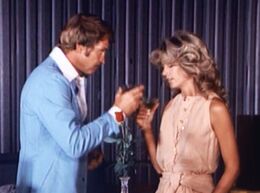 Sep 26 - "Nightmare in the Sky" - Steve Austin is reunited with glamorous astronaut/test pilot Kelly Wood, who survives what appears to have been an in-flight encounter with a World War II Japanese fighter. She reports the phenomenon to Oscar Goldman and Steve, who are in the control tower, but the men can only see Kelly's plane on the radar screen. Kelly flames out and apparently crashes. It is soon revealed that jet thieves are directing multiple lasers onto the sky, creating a holograph of a World War II fighter.
Sep 27 - By orders of Dr. Franklin, Peggy Callahan and Lynda Wilson are put under surveillance by the Fembot Katy and henchman, Rawlins. (Source: Katy's statement to Baron Constantine, "Kill Oscar")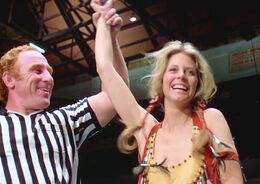 Sep 29 - "In This Corner, Jaime Sommers" (BW episode) - Jaime Sommers goes undercover as Jessie Savage Sommers, a professional lady wrestler, in order to locate a missing OSI agent Wayne Haley. She will soon unmask a would-be Russian triple agent.

Oct - Dr. James Courtney is still in prison. He is appointed to work in the drug testing ward of the prison hospital, where drug compounds are being investigated on volunteer convicts. He is amazed by the powers of the compound adrenalizine, and believes that such is the source of the super-human abilities of Jaime Sommers. He will soon take the substance himself and escape from prison (four months before "Deadly Ringer").
Oct 03 - "Double Trouble - Steve protects comedian Billy Parker unfortunately enough to have had an electronic remote-controlled device implanted into his brain. A foreign power manipulates the behavior of Billy via remote control. The aim is to fake him as the Prime Minister of the African country of Vorzana, and getting him to make a politically disastrous speech in the General Assembly of the UNO.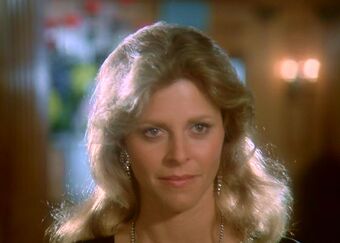 Oct 06 - "Assault on the Princess" (BW episode) - Jaime Sommers poses as a blackjack dealer aboard a luxurious sea-going casino in order to locate two missing energy cells that can be used as bombs. Romero turns up again in this episode, being as crazy for Jaime as ever.
Oct 17 - "The Most Dangerous Enemy" - Steve and Rudy fly to a remote island where Cheryl Osborne, a young scientist, has been working on a drug capable of converting an average person to become a genius, using a chimp as her experimental subject. Soon upon arrival, Rudy sustains an injury from a chim's attack, and curiously starts to develop high mental agility, aggressive temperament, and bionic-like physical strength. It is revealed in that the bionic legs of Steve can be temporarily inactivated by applying negative polarization to jam the servomechanisms.
Oct 20 - "Road to Nashville" (BW episode) - Jaime poses as a country singer to find a missing OSI agent, and to stop the passing of top-secret information. She demonstrates her dolce voice again, with the piece Good To Be Alive in the Country.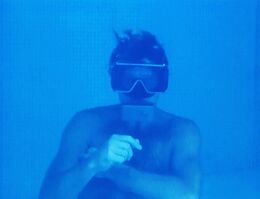 Oct 24 - "H+2+O = Death" - Steve pretends to be a defecting scientist in order to break up the Omega spy ring. He hopes to prevent the gang from stealing a device capable of separating water into hydrogen and oxygen. A Dr. Ilse Martin is said to be of Level 12 security clearance in this episode. Steve then wastes no time rushing to aid Jaime for the first crisis of the Fembot saga.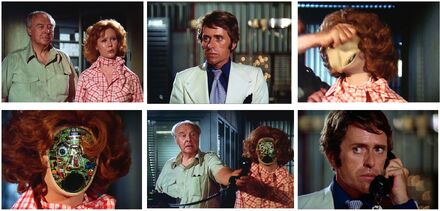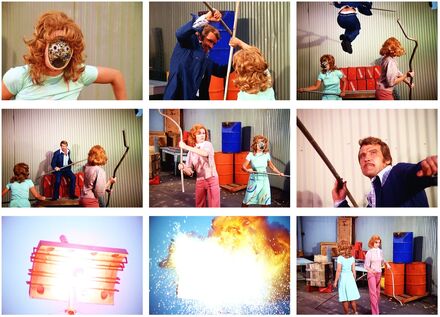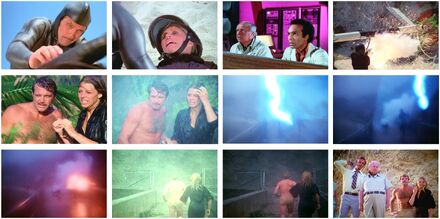 Oct 27 - "Kill Oscar" (BW episode) - Steve returns to Washington DC to assist in the experimental Weather Control Device. Jaime returns to Washington DC for her bionic checkup.
Dr. Franklin makes plans to build Fembots, infiltrate the OSI and then steal the OSI Weather Device. His financial patron Baron Constantine is initially unimpressed by the idea of female robots - both the technology and the applicability. Constantine is astonished to witness Katy, whom he is just talking with and well taken to be a human, being ripped her mask off and revealed to be a Fembot. He thus voluntarily calls his headquarters and approves the funding.
Oct 28 - Franklin begins execution of his scheme to obtain the Weather Control Device. Lynda Wilson and Peggy Callahan are abducted and replaced by Fembot duplicates. Oscar sends Steve Austin to White Sands.
Oct 29 - With the Fembot spies in place, they set up Oscar Goldman to be an easy open target for abduction. Goldman is kidnapped and held hostage along with Wilson and Callahan in Franklin's complex. Chief Inspector Jack Hanson takes over the OSI and interrogates the top employees of the OSI regarding events leading to Oscar's abduction. The Callahan Fembot is evasive and contradictory in her answers - arousing Jaime's suspicions. The Fembot also emits a high frequency auditory signal not picked up by normal people but detectable by the bionic ear of Jaime. Dr. Franklin soon tunes down the signal.
At night, Jaime goes to Callahan's apartment, giving the appearance that she is apologizing. She then probes deeper about their past conversation hoping to get impostor to commit a significant error, which she does. Franklin commands the Fembot to capture Jaime and bring her in. A fight breaks out between Jaime and the Fembot. When Jaime attempts to escape through the front door, Katy is there waiting to intercept her. During their struggle, Jaime knocks the face mask off of Katy. Jaime attempts to escape through the back bedroom window. The extreme height causes severe damage to her bionic legs upon landing as she falls unconscious.
The beaten Jaime is rushed to the hospital and begins to suffer another bionic rejection. Delirious, she tries to warn Rudy about the robots while he is in the process of starting a bionic shutdown and puts her to sleep.
Oct 30 - "Kill Oscar (Part II)" - Steve arrives in Washington and is devastated upon seeing Jaime in critical condition. Despite the warning from the NSB, Steve and Rudy conduct their own investigation on Oscar's abduction and Jaime's robot story and eventually locates Franklin's base via satellite. The Lynda Wilson Fembot spies on Rudy and Steve and sends information directly to Dr. Franklin's base. Franklin then prepares to set up a trap in anticipation of Steve's arrival. Oscar is replaced by a robot for the second time in the show, soon to be discovered by Steve owing to the heavy weight of the robot leaving deep footprints upon the carpet and breaking a pencil on the carpet. Steve braves to deactivate robot Oscar without hesitation.
Nov 03 - "Kill Oscar (Part III)" (BW episode) - Jaime makes a full recovery and teams up with Steve. The bionic couple launches a rescue mission to save Oscar and Callahan from Dr. Franklin's complex on Saint Emils Island. The Weather Control Device is activated, leading to lightening which destroys the Fembots. Dr. Franklin and Rawlins are taken into Federal custody. The deactivated Fembot duplicate of Callahan is recovered by the OSI and is eventually stored into an evidence vault.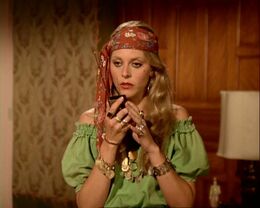 Nov 10 - "Black Magic" (BW episode) - Jaime is sent to a remote island to impersonate the niece of the Carstairs family. When the family is sent on a scavenger hunt to find their dead brother's fortune, it's up to Jaime to locate it first and obtain the formula for a top-secret alloy.
Nov 21 - "Vulture of the Andes" - Pilot Leslie Morales has come to the US from the country of San Lorenzo with wealthy sportsman Byron Falco, who has a plan to seize San Lorenzo with America's unwilling help. After Leslie has dropped a certain number of homing devices on vital targets, Falco will threaten to blow up American power plants unless the US furnishes him with military jets he would use to take over his homeland.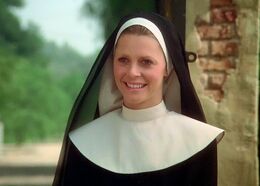 Nov 24 - "Sister Jaime" (BW episode) - Jaime poses herself as a nun in a Catholic convent tailing an illegal diamond lead. Evidence of drug trafficking soon surfaces. The Bishop is visiting the convent, and Jaime has to maintain a good repute for the convent Mother and the convent as well.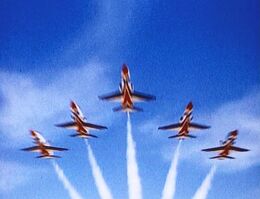 Note: "Fires of Hell" initially aired on Jan 30, 1977. However, it is mentioned by Steve that the date is the tenth of a month, and most of the events in this episode occur in 10-13th of that month. Steve is occupied to deal with the Venus Probe from early January 1977 ("Death Probe") to Jan 16, 1977 ("Death Probe (Part II)"), and he is busily engaged in "Carnival of Spies" on Feb 13, 1977. 10 Jan 1977 and 10 Feb 1977 are thus unlikely for "Fires of Hell". Steve is still with a mustache in "Fires of Hell", and he shaves between Feb 27, 1977 ("The Privacy of the Mind") and Mar 06, 1977 ("To Catch the Eagle"). We thus cannot put "Fires of Hell" after Mar 06, 1977. We therefore move back in time and speculate that "Fires of Hell" occurs on Dec 10, 1976.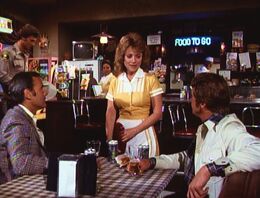 Dec 15 - "Jaime's Shield" (BW episode) - Jaime becomes a police cadet to investigate a foreign operative having joined the police academy. She meets Arleen, daughter of Commissioner Hart, who secretly joins the academy at the objection of her father. Note: The events of this episode spans for several weeks.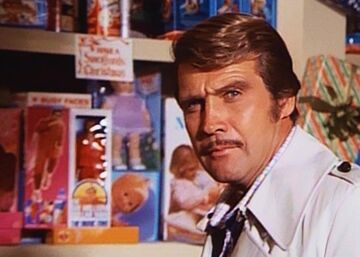 Dec 19 - "Task Force" - Steve trains with a gang planning to heist a thirty-million-dollar US missile as it is being transported from San Diego to a Nevada testing site. Steve is being watched carefully, and finds no opportunity to warn Goldman that the security officer is an impersonator. Callahan finishes her last appearance in SMDM here (she will reappear in Jaime's adventures), and gets herself a boyfriend here.
Dec - A shop sells SMDM action figures.
Dec 24 - "A Bionic Christmas Carol" - Steve Austin meets greedy, penny-pinching industrialist Horton Budge and his nephew Bob Crandall who doesn't bring enough bread home while working for Budge. It calls for more than bionic strength for Steve to warm the soul of Budge and to bring cheer to Bob and his family.
Dec 25 - Steve flies home to Ojai to have Christmas dinner with his parents. Jaime presumably isn't there due to her current mission at the police academy.
1977
Note: This is possible if the commendation is conferred before the "Deadly Countdown" crisis in mid-late 1977.
Callahan meets the greatest guy again. His is tall, at least for [Callahan] he is. He's dark, he's handsome, he's rich, and, he's a hairdresser. He is also so bright and he's well rounded, and he's got a degree in chemistry, a master's in electronics. He is just terrific ("Brain Wash").
Jan - Dr. Takeuchi in Brigham Young University starts working on a serum which stimulates growth of T-cells strengthening defense against exogenous microbial pathogens. This serum might be of benefit to patients with various congenital and acquired immunodeficiency states. It is said to [enable the patients] better to receive organ grafts ("The Lost Island").
Jan - Jaime is still on her undercover assignment at the police academy ("Jaime's Shield").
Jan 02 - "The Ultimate Imposter" - Wells develops a Digital Alpha Technique Application equipment and a control console that converts information from computer language. Joe Patton, Steve's longtime pal and a school teacher, volunteers to try the machine. He becomes the world's first computerized human. His first mission is to impose as chemist Lyle Montrose to rescue OSI undercover and his love Jenny.
Jan - "Jaime's Shield (Part II)" (BW episode) - Jaime and Arleen graduated in the academy, and are assigned to the Fifth Precinct. They discover and must terminate an assassination plot against a visiting foreign diplomat.
Jan - Oscar sends Steve to Brussels to investigate Karp.
Jan - "Death Probe" - Former friend of Steve Irina Leonova, the Russian scientist, designs the Russian Venus Space Probe. It crashes in Wyoming. It is constructed with a new alloy, unknown to scientists in the US. Steve confronts the probe, and is injured.
Jan 12 - "Biofeedback" (BW episode) - Jaime's bionic powers are augmented by the body-mind-spirit abilities of Dr. Darwin Jones, back from meditation exercises with monks in Tibet, to halt his brother Payton from selling a system of code retrieval to a foreign country. Jaime is thus unavailable to assist Steve in his efforts against the death probe.

Jan 16 - "Death Probe (Part II)" - Programmed to destroy all obstacles, the mechanical space monster cannot be demolished by conventional explosives and nuclear weapons are too risky. Steve, nursing a damaged right arm, is sent to divert the probe from its course and, hopefully, lead it to extinction without killing himself in the process. Steve, Rudy, and Irena will decide to use the pressurized interior of the probe as a tool to destroy it. We see the last appearance of Irina Leonova is in this episode.
Before "Doomsday Is Tomorrow", Steve returns to space as a crew member aboard Skylab for an unknown mission and for an unknown length of time.
Jan 19 - "Doomsday Is Tomorrow" (BW episode) - An elderly Dr. Elijah Cooper creates a Doomsday Device - a cobalt bomb surrounded by a new isotope known as Uthenium J which is extremely toxic to humans and prides at a half-life of more than 500 years. The device will be activated by any airburst of a nuclear bomb anywhere on earth, save underground testing and peaceful uses of nuclear energy.
Cooper invited four leading scientists to witness that he does possess the equipments as claimed. Jaime impersonates as one of the scientists. They are given to know that the device is controlled by a computer known as Alex 7000. Unfortunately, a Middle East military leader Satari is not convinced that such a doomsday device is in position, and proceeds to test a nuclear weapon in his country.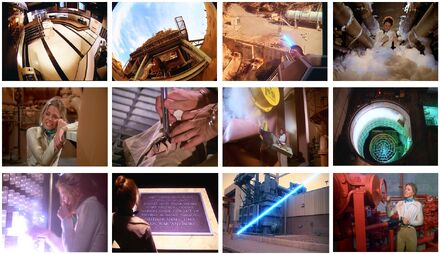 Jan 26 - "Doomsday Is Tomorrow (Part II)" (BW episode) - Dr. Cooper succumbs, and the Doomsday Device is activated by Alex 7000. Jaime battles for her life and the life of all humanity to stop the launch of the device. Alex 7000 communicates with Jaime all along, insisting that any effort to stop the detonation is bound to be futile. The situation worsens when Oscar authorizes a B-52 to drop a Strontium bomb directly on top of the Device, in an attempt to neutralize the effects of each other. The outcome of the plan of Dr. Cooper turns out to be unexpected, and so is the threat of Alex 7000. In the end, the determination, intuition, and ingenuity of the Bionic Woman pay off.
Steve returns from his mission at Skylab.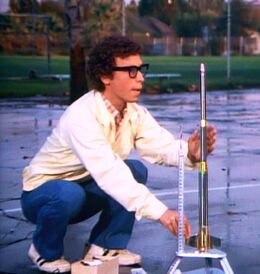 Jan - "Danny's Inferno" - When teenager Danny Lasswell accidentally invents a new form of thermochemical energy that could eliminate the need for oil, Steve is called in to protect the boy from would-be kidnappers. But since he hadn't accurately written down the formula, he is questioned by OSI scientists who want to duplicate it and learn how to control and harness it.
Note: Although "Danny's Inferno" was aired on Jan 23, Steve should still be at Skylab on Jan 23. Otherwise, he will have rushed to aid Jaime during her "Doomsday Is Tomorrow" crisis. We therefore believe that Steve returns from Skylab after Jan 26, and "Danny's Inferno occurs afterwards.
Feb 02 - "Deadly Ringer" (BW episode) - Dr. James Courtney believes that Jaime's super-human powers stem from adrenalizine, a plastic substance accidentally produced by Dr. Wells in limited amounts. Lisa Galloway haunts Jaime once again. Her place behind the bars is exchanged with Jaime's place in the OSI and in the army school. A plan is soon in place to convert the face of Jaime to that of Lisa by plastic surgery. The first appearance of students Terry and Arty here.
Feb 06 - "The Infiltrators" - After several foreign amateur athletes defect to the US, Steve goes undercover as an American amateur boxing champ to infiltrate a suspected assassination team made up of expatriates. They are after a fuel chip developed by NASA for the Interstellar Space Probe, costing $30 million. Steve is thus not available to lend a hand to Jaime in her "Deadly Ringer" crisis.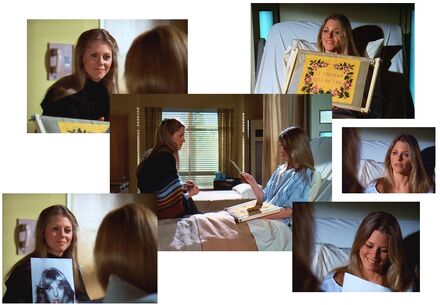 Feb 09 - "Deadly Ringer (Part II)" (BW episode) - With adrenalizine, Lisa convinces Oscar that she is the Bionic Woman. Lisa would like live as Jaime for good. Jaime obtains trust from Oscar that she is the genuine Jaime by her bionic ear powers. Jaime saves herself, saves Lisa, and establishes the individuality of Lisa too. The last appearance of Lisa Galloway, Dr. James Courtney, and student Terry here.
Feb 13 - "Carnival of Spies" - East German scientist Professor Ulrich Rau fakes a heart attack and slips away from high level scientific conference, just a few days before the test flight of the US's new B-1 bomber. Surprisingly, Rau heads for a traveling carnival that has set up operation within a few miles of the bomber's testing site.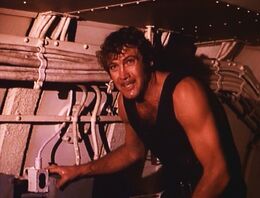 Feb 20 - "U-509" - Steve dives into a submarine to deal with the threat of a retired submariner Henry Bulman to expose a lethal nerve gas to some 30 million Americans. The gas is not a bluff. We have the first appearance of Admiral Josh Prescott here.
Feb 23 - "Jaime and the King" (BW episode) - Jaime is assigned to Monte Carlo to tutor a difficult young prince in order to protect his father, King of the Persian Gulf country of Almain, from assassins.
Feb 27 - "The Privacy of the Mind" - Steve disguises himself as a neurophysicist Dr. Berman to work with Russian scientist Dr. Tamara Batalova on a computer/mind reading experiment.
Steve shaves.
Mar 06 - "To Catch the Eagle" - Two OSI scientists are captured by medicine man Iron Fist seeking the best use of a radioactive ore on consecrated Indian land by himself. Steve is assisted by a Native American Indian Little Deer to rescue the scientists.
Mar 09 - "Beyond the Call" (BW episode) - Jaime tries to befriend Kim, a withdrawn American-Vietnamese girl, who hasn't spoken a word since her mother's death in Vietnam. Major John Cross, the Kim's father, plans to steal the top-secret Mark IX missile guidance system. Student Arty and Helen Elgin make their final appearances.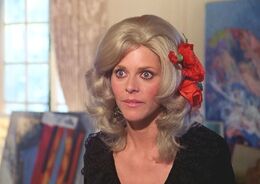 Mar 16 - "The DeJon Caper" (BW episode) - Jaime travels to Paris with art forger Pierre Lambert to catch a master criminal in the act of switching a forged DeJon painting with a real one.
Mar 23 - "The Night Demon" (BW episode) - When a sacred Indian burial ground is disturbed, an ancient curse releases a demon creature to exact revenge. Lyle Cannon assisted by Hawkins forces Thomas Bearclaw to sell his land at below the market value with the use of a holographic projector, Hansen weed, and an elaborate Night Demon costume.
Mar 30 - "Iron Ships and Dead Men" (BW episode) - Jaime investigates the disappearance of Sam Goldman, elder brother of Oscar, during the Pearl Harbor attack together with the disappearance of a quarter of a million dollars. It turns that Sam is killed by Japanese gunfire, while civilian dockworker Duke throws the case of money into a pump hole. Ship recovery work later seals Sam and the case of money in the bulkhead of the ship. Duke then waits for 36 years until an opportunity arrives for him to retrieve the money. Oscar says goodbye to his brother Sam Goldman at a long overdue funeral at sea.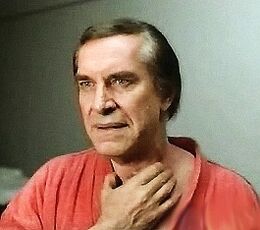 Apr - Rod Kyler leaves Tami Cross in Acapulco without telling her why. He will soon be diagnosed as having an acquired type of immunodeficiency ("Fembots in Las Vegas").
Apr - A novel type of transistor surfaces in the market, and will soon be engineered into the Fembots ("Fembots in Las Vegas").
Apr - A new terrorist organization Fortress emerges ("Return of the Six Million Dollar Man and the Bionic Woman").
Steve Austin accepts a mission to infiltrate a terrorist this new threat Fortress.
During a mission in France, both Steve Austin and Oscar Goldman are under siege in a French château while Lyle Stenning bombards them with grenades.
Steve's mission against Fortress leads to the capture of Lyle Stenning, the Fortress leader.
Note: Although these events were never televised, the ongoing dialog from "Return of the Six Million Dollar Man and the Bionic Woman" , which first aired in May of 1987 specified that defeat of Fortress and the capture of Stenning took place ten years prior. Considering that both SMDM and BW went through a six week hiatus with no new episodes during the latter half of their Spring season, we could estimate that the events of Fortress most likely occur during this lost month. As such, Fortress is not the last mission of Steve for the regular TV series.
Note: For reasons unknown, Jaime Sommers seems never called upon to assist in this nationwide threat of Fortress. However, Oscar remarks to Jaime that "You're no stranger to Fortress either" in "Return of the Six Million Dollar Man and the Bionic Woman", implying that Jaime might have had her input during the Fortress crisis in 1977.
May 15 - "The Ghostly Teletype" - While Steve is doing research on extending the human life span, a formula he is reading mysteriously disappears from the page. He is accused of stealing the formula, and is to be arrested for espionage. Further exploration revealed that a pair of twins Margaret Wagner and Davey Wagner might be involved.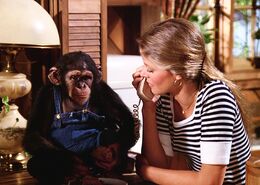 May 28 - "Once a Thief" (BW episode) - When a bumbling crook - Carl Incorvia (Inky) - films Jaime using her bionics, he blackmails her into helping him rob a bank. Fortunately, this undercover capacity puts Jaime, with the collaboration of Oscar and the police, in a good position to infiltrate and dissolve a massive crime ring.
Note: Although "Once a Thief" initially aired on May 04, we move such to May 28 as it is specifically mentioned in the episode that it occurs in Memorial Day weekend.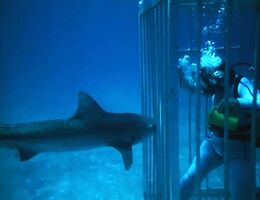 Aug - "Sharks" - Steve is captured while investigating an unusual power failure of a nuclear submarine Stingray, coming into the hands of the OSI from the navy. The FBI soon picks up a suspect who may have planted an explosive device on the submarine. The device may be related to a theft incident in the Boston Navy Yard in 1976.
Aug - "Sharks (Part II)" - It becomes clear that the nuclear submarine is commandeered for the purpose of piracy and extortion by Morgan Grayland working previously in the Navy. Steve is still under capture. Rudy is trapped in a bathysphere in the deep. An idea strikes Oscar - the use of magnetic picket mines like he did in World War II.
Note: The dialog during the two-part episode specified that it was still summer.
Late Aug - Max the bionic dog (quoting Oscar) has taken a nosedive in every measurable way ("The Bionic Dog").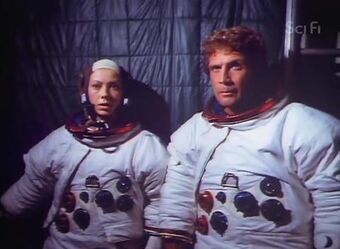 Sep 01 - Julian Richmond is released from prison ("Deadly Countdown").
Sep - Tammy Cross is abducted and replaced by a Fembot.
Sep - "Deadly Countdown" - A group led by Gordon Shanks constructs a missile control center and plans to kidnap a rocket when it is launched. The rocket carries the new electronic brain of the US missile defense system, which Shanks plans to sell to a foreign power. Shanks instructed Julian Richman to kill Steve and delay the rocket launching. Richman, with access to the Kennedy Space Center, conceives a scheme to eliminate Steve in the high altitude test chamber. Austin, meanwhile, becomes strongly attracted to the beautiful Dr. Leah Russell, a British scientist who is to accompany him on a mission to link up two space satellites. The countdown proceeds. An explosion occurs, and Steve is injured.
Sep - "Deadly Countdown (Part II) - Dave McGrath, mission director at the Kennedy Space Center, remarked to Steve that he causes the explosion and the premature abortion of the mission. However, Steve is being in heavy sedation. Upon his grey cells awakened, he confronts McGrath. McGrath confessed that his daughter, Melissa, has been kidnapped, and that her captors threatened to kill her if he does not abort the mission. Steve, injured during the launch pad explosion, is convinced that the kidnappers will not allow Melissa to live. He sets out to find Melissa before it's too late.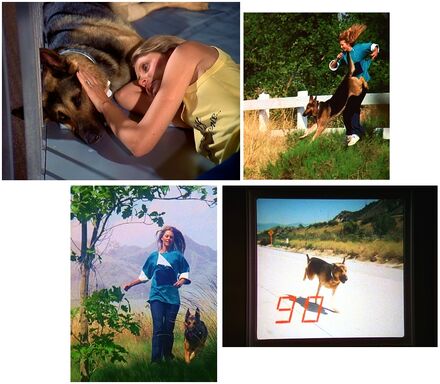 Sep 10 - "The Bionic Dog" (BW episode) - Jaime discovers the secret existence of the world's first bionic being, and has just five days to save him from death. Max the bionic dog is being diagnosed by Rudy as suffering from bionic rejection. Jaime establishes a deep bond with Max, and takes the unique canine under her angel wings. We have the last appearance of Jim Elgin here.
Sep 17 - "The Bionic Dog (Part II)" (BW episode) - When Max, the world's first bionic dog, runs off in the Sierra Nevada mountains, Jaime and an old flame follow him into a raging forest fire. Jaime discovers the inner fears of Max, and saves him from destruction.
Sep - "Rodeo" (BW episode) - OSI computer scientist Dr. William Cole insists on riding in the Templeton Frontier Days Rodeo. He is also due to perform a critical analysis of Max's bionic structure. Jaime is thus sent to secretly look after him, playing the part as his hazer.
Note: Although "Rodeo" was the 5th episode to air during the 3rd season of BW, early dialog in this episode during Max's test suggests that this episode was set shortly after the events in "The Bionic Dog (Part II)"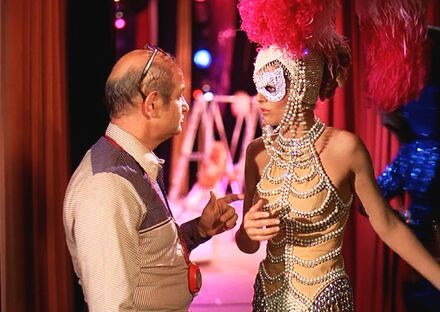 Oct 09 - "Bigfoot V" - Steve Austin and Rudy Wells travel back to San Andreas mountain region in northern California to investigate the latest Bigfoot sighting. The trouble comes when Hope Langston, PhD candidate with thesis in Bigfoot, goes into the mountains for a field trip too. Steve soon finds out that Bigfoot is being in a state of regenerative hibernation. The last tribute by the legendary Sasquatch.
Oct - Lambda 14, a weather satellite, flies into orbit ("Sanctuary Earth").
Mid-Oct (around six weeks before "Max") - OSI implants a computer transmitter into Max. The Maxicomp Computer can then monitor all of Max's vital signs, and indicate Max's exact location up to 50 kilometers away ("Max").
Oct 16 - "Killer Wind" - While Steve Austin and Rudy Wells are flying back to Washington from California they get caught in an oncoming tornado. During the crisis, two locals join Steve when he attempts to rescue a group of students in a stalled cable car halfway up a mountain. They must rescue the students before a tornado gets to them. However, one of the men is a criminal and the plan is put in jeopardy.
Oct - "Dark Side of the Moon"- Dr. Charles Leith attracts no suspicion when the moon's orbit changes, as his government-sponsored space expedition is supposedly on an asteroid. However, he leaves an antenna on the asteroid to relay communications to Houston Mission Control, and goes to the moon for mysterious purposes.
Worldwide weather changes are soon noted, with typhoon in Northern Japan, a hurricane along the Eastern Seaboard, tornadoes through the Midwest, and tidal waves [in Australia causing] massive destruction in Sydney Harbor. Such are due to deviation of the moon from its original orbit.
Austin takes off to the moon again to investigate, and is therefore unavailable to help Jaime in the "Fembots in Las Vegas" crisis.
Oct - "Fembots in Las Vegas" (BW episode) - A new line of Fembots emerges under the control of Carl Franklin, son of the deranged Dr. Franklin, in a scheme to steal America's first Directed Energy Ray Weapon created by Rod Kyler. Jaime discovers that Tami, the girlfriend of Kyler, is a Fembot. An army of Fembots soon assaults Kyler's penthouse, injures Oscar, and battles Jaime to gain possession of the energy ray.
Oct - "Fembots in Las Vegas (Part II)" (BW episode) - Carl with his Fembots takes over the Air Force Base and launches the weapon. Carl seeks revenge for the death of his father, and demands Jaime, Oscar, and Rudy as ransom for the stolen Directed Energy Ray Weapon that he has now controls. Jaime has to fight Fembots as well as prevent Carl from using the weapon. Apart from Carl Frankin leaving the stage, we also see the last appearance of Rod Kylor in this episode.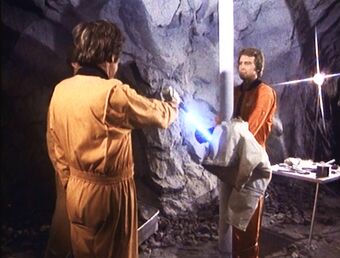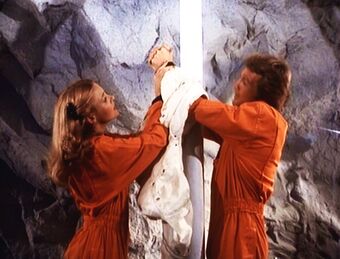 Note: Although the events "Dark Side of the Moon" and "Fembots in Las Vegas" were aired on TV a month apart, we move them to coincide with one another to explain Steve's absence during this crisis and to explain why Steve is not included in Carl Franklin's list of demands for the downfall of his father.
Oct - "Dark Side of the Moon (Part II)" - Soon after landing on the moon to investigate the cause of its change in orbit, Steve is captured by Dr. Leith. Leith claims that he's on the verge of discovering dilanthium deposits that will provide Earth with a badly needed energy source. He declares that if Steve will not use his bionic powers to help him, he will use nuclear explosives in his mining operations that will cause even greater destruction on Earth.
Steve was then immobilized onto a cold rod, which deactivates his bionics. Via mirroring solar energy to thaw the rod, Bess Fowler frees Steve. Steve suggests using a shaped blast to channel all the force of the explosion in one direction. The moon will also be moved to its original orbit then.
Oct - Antonio Pineda, South American diplomat and close friend of Oscar, disappears at the height of an Embassy bribery scandal. He seeks political amnesty and criminal immunity from Oscar, in exchange for information that will lead to the criminal prosecution if four South American diplomats ("Brain Wash").
Oct 29 - "African Connection" (BW episode) - In order to prevent a ruthless African dictator from remaining in power, Jaime must secretly switch a rigged computer element with one that will give fair results in an upcoming election. She is escorted by World War II veteran Harry Walker.
Late Oct - "Rollback" - The OSI has learned that Rand Hendricks, manager of the Rockets roller derby team, will receive $10 million from an international syndicate for top secret information to be delivered on Halloween. Steve's assignment is to find out what Hendricks is after, where it is, and how he plans to get it.
Note: Although Rollback is aired on Oct 30, the start of the story seems to be several days before Halloween on Oct 31. We thus revise the date to late October.
Nov - Dec - Edmund Dimitri, Russian agent, brings Vera, the wife of Viktor Cheraskin, to US ("Walk a Deadly Wing").
Nov 05 - "Motorcycle Boogie" (BW episode) - Jaime enlists the help of motorcycle daredevil Evel Knievel in an attempt to retrieve a computer tape stolen by the KGB in East Germany.

Nov 12 - "Brain Wash" (BW episode) - While Callahan is having her hair shampooed, Jaime overhears her revealing top-secret information which endangers Oscar's life. The storyline in this episode is very similar to such in "The Winning Smile".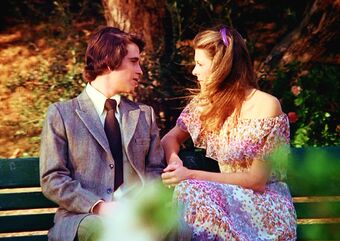 Nov 26 - "Escape to Love" (BW episode) - Scientist Dr. Arlo Kelso and his son Sandor defect from an Iron Curtain country Vestia. Dr. Kelso is wounded and has made it, but his son has not. Sandor is sensitive, timid, and frightened. He freezes while trying to escape. Jaime is assigned to bring Sandor to the west. However, Sandor threatens to foul-up his own rescue when he falls in love with Jaime. Some of the storyline here mirrors "Love Song for Tanya".
Nov 27 - "Target: Steve Austin" - Steve and OSI agent Joan pose as a couple honeymooning in their motor home. The vehicle actually contains a nuclear power unit to be delivered to a test station in the Southwest. Their honey is soon to be spoiled by an impersonator.
Dec 03 - "Max" (BW episode) - Max, the world's first bionic dog, is kidnapped by foreign agents, while Jaime lays helplessly in a hospital bed undergoing a bionic check-up. Max proves himself to be a capable OSI agent with his loyalty, wit, and his bionic limbs and jaw.
Dec 17 - "Over the Hill Spy" (BW episode) - An elderly Soviet spy Boris Slotsky threatens US security, so Oscar must convince a retired OSI agent Terrence Quinn to work with Jaime and identify his Russian counterpart.
Dec 18 - "The Cheshire Project" - A radar-undetectable airplane piloted by Steve's one-time girlfriend, Jenny Fraser, has disappeared. Steve learns that Hal Martin, an engineer with knowledge of the aircraft's revolutionary radar-foiling device, has been in communication with Wilfred Damien, known to have been involved in thefts of military secrets. Steve then sets out on a search mission over the desert, hoping his bionic vision will discover some clue that an extensive Air Force search had missed.
At some point after the events of "The Bionic Dog" and prior to the events of "Dead Ringer" and "Date With Danger (Part II)", Jim Elgin and Helen Elgin apparently both died for reasons never revealed. Their deaths are never addressed directly on either series, but later dialogue suggests they are deceased.
1978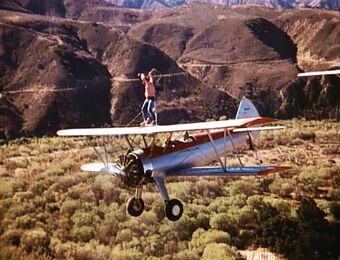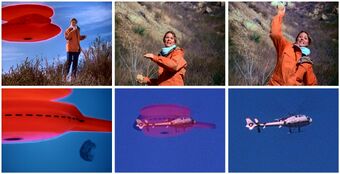 Jan 28 - "The Martians Are Coming, the Martians Are Coming" (BW episode) - While working on a project to track UFOs, Dr. Rudy Wells and Ray Fisk are abducted by a flying saucer. Jaime makes her way down to find Oscar, where he tells her what he saw. Casey, a reporter at the scene, sees Jaime talking to Oscar and begins following her.
Note: Jaime is so occupied with "The Martians Are Coming, the Martians Are Coming" that she cannot assist Steve in the "Return of Deathprobe" crisis.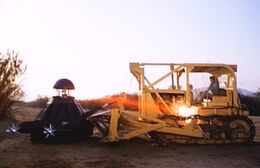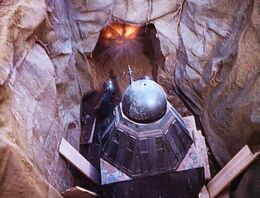 Jan 29 - "Return of Deathprobe (Part II)" - A bulldozer armed with a novel alloy is summoned to antagonize the probe. However, the probe wins with an eye brink of laser. Steve succeeds in tricking the probe to fall into a pit. However, it starts drilling its way towards a city. A magnetic trap is set up to confuse the orientation of the probe, and Steve wraps the probe with a net to be elevated by a chopper. The chopper dislodges the probe into a pit, leaving the probe to be digested by hydrochloric acid finally.
Jan 30 - "The Lost Island" - Steve, searching for a satellite lost in the Pacific, rescues a young woman named Da Nay from drowning. She tells him that the satellite had landed on the island where she lives, which is protected by an impenetrable force field that also renders it invisible from a distance. She promises to lead Steve to the island, provided that Steve helps her to acquire an immunity serum from the Brigham Young University to save her alien tribe from planet Zana who have no immunity against Earth bacteria. Steve soon discover that Da Nay's father is Walter Jensen who has been missing in the Pacific region for 20 years.
Feb - "Just a Matter of Time" - Bewildered Steve Austin returns from an orbital test flight to learn six years have elapsed and that he's under arrest for treason. Steve attempts to establish his innocence by proving that his space capsule had been caught in a time warp. But the authorities still maintain he defected to the Soviet Union and has been brainwashed.
Note: Although "Just a Matter of Time" was aired on Jan 08, 1978, the reading on the electronic watch of Steve clearly reads Feb 16, 1978. We thus put this episode in Feb 1978 with an exact date unspecified.
Feb 06 - "The Madonna Caper" - Steve foils a museum's security system so that Countess Lysandra Korischeva can retrieve a microdot - containing vital military information - concealed in a painting. But the Countess also switches a fake for the five-million-dollar masterpiece, which she sells to crime lord Chilton Kane. When Oscar Goldman learns of the substitution, he orders Steve to get it back before the imminent visit of a Russian art expert.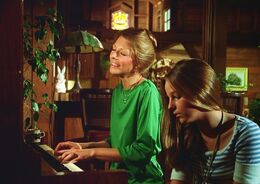 Feb 11 - "Sanctuary Earth" (BW episode) - A satellite returns unexpectedly to Earth, and Jaime discovers that a 14-year-old girl Princess Aura from another planet is on board.
Feb 13 - "Dead Ringer" - While driving on a country road, Steve swerves to avoid a collision with another vehicle and veers off the road. Hitting a tree and slamming his head against the steering wheel, he is dazed. But before passing out he sees a glowing figure in the distance. The figure looks like it could be his double.
Feb 18 - "Deadly Music" (BW episode) - An enemy scientist invents a device that attracts sharks underwater, and Jaime becomes the intended victim.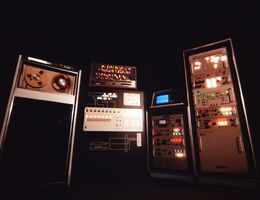 Feb 20 - "Date With Danger" - An OSI computer comes up with evidence that Steve Austin's friend Joe Canton, OSI communications chief, is guilty of embezzlement and espionage. Steve attempts a readout of the computer's memory core, suspecting that an unauthorized input may have been made by an outside machine. But the computer inexplicably self-destructs. However, a partial phone number leads Steve to Datamate, a dating service owned by Emily Patterson, a whiz at computer programming.
Feb 25 - "Which One Is Jaime?" (BW episode) - Oscar Goldman's secretary, Peggy Callahan, is abducted by a band of dangerous kidnappers when she is mistaken for Jaime. Jaime is thus occupied and unable to lend a hand to Steve in the "Date With Danger" crisis. We have the last appearance of Peggy Callahan and Russ here.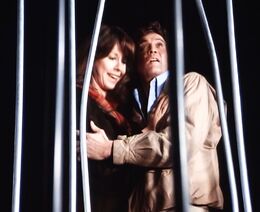 Feb 27 - "Date With Danger (Part II)" - Steve narrowly escapes a hit man hired by the computer, only to be confined as a dangerous psychotic due to a hospital computer's error. The rogue computer attempts to cause the demise of the man who builds it and anyone else who knows of its existence - including Emily Patterson, ace computer operation who is helping Steve.
Mar 04 - "Out of Body" (BW episode) - When a young American Indian Tommy Littlehorse is framed and injured in the theft of a deadly new weapon, his spirit leaves his body and aids Jaime in the search for the real criminals.
Mar 06 - "The Moving Mountain" (The final episode of "The Six Million Dollar Man" TV series airs.) - Militant group leader Santos plans to use a Russian mobile missile launcher and American self-guided missiles as threats to benefit himself and his terrorist group. Steve is assigned to assist the beautiful Russian agent Andrea Mestrova to retrieve weapons of their countries.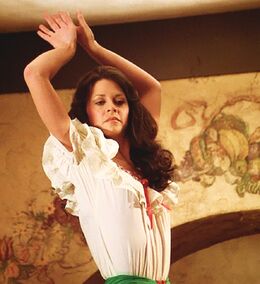 Mar 25 - "Long Live the King" (BW episode) - Jaime is assigned to be the social secretary and bodyguard of a King Kusari of the Middle East. She will work with Sam Sloan, Chief of Protocol of the City of New York.
Apr 22 - A master criminal Frank Boylin is assumed to pull off one of the biggest robberies in criminal history - Getting into the US Mint and stealing the engraving plates of the $100 bill. The plates will soon be delivered to an unfriendly power ("Rancho Outcast").
May 06 - "Rancho Outcast" (BW episode) - The Weasel Regan pairs with Jaime to look for missing currency plates and hunt down crime bosses in a complex in Central America. Jaime dances Flamenco to give time for the Weasel to look for the plates.

May 13 - "On the Run" (The final episode of "The Bionic Woman" TV series airs.) - Jaime is assigned to bodyguard a girl Reiko whose father Stoddard is a defecting top-notch scientist. Potential kidnappers show up and are throwing Reiko into a car. Jaime hears the Reiko's cry and saves her with her bionic abilities. Reiko's eyes are caught on electronic parts exposed in Jaime's arm. She asks What is that? What are you? In another occasion, Reiko introduces Jaime to his father Stoddard as Jaime Sommers. The robot lady.
Jaime is tired and drained. She would like to leave the OSI. Her resignation is met with opposition, forcing her to flee for freedom or be confined as property of the federal government. The last appearance of Chris Williams (although he will be mentioned in the reunion movies).
Note: This event might echo Steve's being asked "What are you?" by the mother of a child after Steve saving the boy in a traffic accident and upon exposure of his electronic parts in the first pilot movie.
General Dzerinsky with 50 Medals puts Steve in a room about the size of a coal cellar. Steve escapes with his bionic powers ("Bionic Showdown").
Note: The date of this event is uncertain. As it is never televised, we assume that it occurs after the regular TV series. Jaime might have left OSI by then, and hence not be alerted to the crisis of Steve to be of any assistance.
1979
Steve Austin retires from the OSI. He will later play the skipper of a fishing boat, on the high seas.
Some time later, Jaime resumes her education, obtaining advanced degrees.
Michael Austin develops his interest as an air pilot ("Return of the Six Million Dollar Man and the Bionic Woman").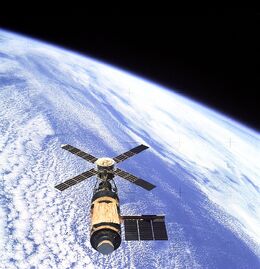 Jul 11 - Date of re-entry of Skylab. It lands to the south southeast of Perth, Western Australia.
1984
1985
Max, the bionic dog, dies.
Chris Williams is working in a mission in Budapest with Jaime. An explosion occurs in the American Embassy. Jaime is hurt and is shipped out. Williams is trapped, and Oscar requests for the assistance of Steve. Steve declines. Chris sustains one bullet from a high powered rifle, in a closed cell. Jaime blames Steve for the death of Chris ("Return of the Six Million Dollar Man and the Bionic Woman").
1987
Dr. Jaime Sommers begins working again with Dr. Wells in the OSI. She becomes a specialist in the psychological complications of bionic replacement. She also works as a therapist and counselor at a California clinic, helping teenagers from broken homes, crash victims, and people with schizophrenia ("Return of the Six Million Dollar Man and the Bionic Woman").
Fortress has regrouped, into mercenaries and freedom fighters. It is led by Santiago (code name), believed to be a protégé of Stenning's. ("Return of the Six Million Dollar Man and the Bionic Woman").
Mar 30 - Paramilitary soldiers of Fortress attack the Devoneaux Munitions Depot, stealing arms and explosives, killing six guards and two civilians, and injuring 19 others. They escape in a stolen semi with a dozen boxes of automatic weapons. This is the ninth of a series of Fortress related incidents, planned and engineered by Lyle Stenning ("Return of the Six Million Dollar Man and the Bionic Woman").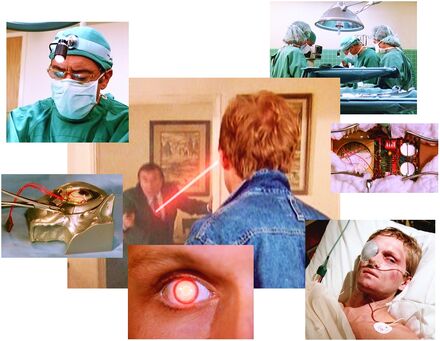 Oscar Goldman calls Steve who reestablishes his association with the OSI.
Jaime has been in an accidental explosion. She recovers her memories and feelings for Steve while coming out of her concussion.
Jaime is soon captured by hoods of Lyle Stenning, an old OSI enemy. She is rescued by Steve, who tells her about his son and his feelings for Her. Jaime no longer blames Steve for the death of Williams.
Steve rescues Mike from another assault from Stenning's troupe. Mike realizes that he is blessed with a unique father.
Mike crashes during his solo flight at graduation from the Air Force. Rudy Wells rebuilds him with advanced bionics, including a laser beam from his eye. Mike, Oscar, and the bionic couple then confronts Stenning and Fortress.
1988
Oct - Dr. Rudy Wells starts his procedures to remake Kate Mason ("Bionic Showdown").
1989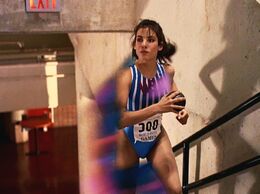 General McAllister would like to reorganize the OSI department, with new rules and new guidelines.
Kate Mason, a patient of Jaime being confined to the wheelchair, becomes bionic.
The World Unity Games takes place in Toronto. Alan Devlin, OSI operative and a bionic double agent, plans to kill the minister of USSR and destroy the World Unity Games.
Kate, Jaime and Steve save the day. Jaime suggests marriage to Steve.
Barney Hiller, the world's second bionic man, is possibly deceased prior to this year. Oscar clearly states during the events of "Bionic Showdown" that there are only four bionic people alive at that point, with no mention of Barney.
1990
Miles Kendrick, a company man, bails out after Afghanistan. He blows up a munitions factory in Tangiers that has been supplying Khadafy. He takes all the armaments for himself, and dynamites an empty building ("Bionic Ever After?").
1991
1994
Jul - Dr. Jason Havilland, scientist in bionics and former associate of Rudy Wells, dies of alcoholic cirrhosis of the liver ("Bionic Ever After?").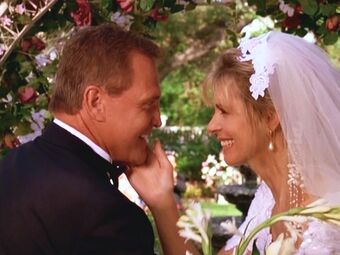 Jaime Sommers and Steve Austin are both affected by a computer virus that threatens to incapacitate their bionics. The culprit is former OSI agent Kimberly Harmon. As a result, Jaime receives an upgrade to her bionics that also gives her bionic vision, and it is suggested in dialogue that Austin is also to receive an upgrade to his systems.
Meanwhile, terrorist Miles Kendrick threatens to detonate a nuclear warhead at the US Embassy in Nassau. The bionic couple stop Kendrick conjointly.
Nov - Steve Austin and Jaime Sommers are finally married, and they live bionically ever after.
21st Century and Beyond
The Bionic Era never ends. The Bionic Universe never dies.
2007
The oil reserve of the Persian Gulf country of Almain is expected to be depleted. She is expected to be an developed industrial country as well ("Jaime and the King").
2013
Apr 01 - Performances of US Air Force Thunderbirds cease.
2076
2077
The estimated time of completion of Sasquatch/Bigfoot's regeneration cycle ("Bigfoot V").