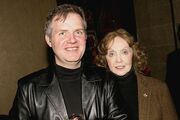 Biography
Charlotte Moore (b. July 9, 1935) has been featured in television, Broadway, and off-Broadway productions since the 1970s. In 1974, she was nominated for a Tony Award for Best Featured Actress in a Play.[1] Moore is currently the artistic director of the Irish Repertory Theatre. The troupe, which she co-founded with Ciaran O'Reilly, is devoted to classics of the Irish and Irish-American stage, as well as newer works.[2]
External Links
Ad blocker interference detected!
Wikia is a free-to-use site that makes money from advertising. We have a modified experience for viewers using ad blockers

Wikia is not accessible if you've made further modifications. Remove the custom ad blocker rule(s) and the page will load as expected.