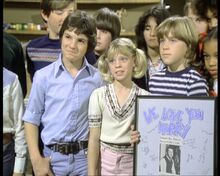 Caroline is one of Jaime Sommers' students at the Ventura Air Force Base. She had a terrifying experience as her class was returning from a field trip to have a picnic in the park. While having a good time singing songs on the bus, one of the tires blew and caused the bus to swerve off the side of the road. The bus started to catch fire, but Jaime, bus driver Harry Anderson, and the students all got out safely - except for Caroline. Luckily, Anderson went back in time to save her before the bus exploded. Caroline was very thankful, and along with the other students, presented Anderson with a thank you sign that they had framed.
Appearances
Ad blocker interference detected!
Wikia is a free-to-use site that makes money from advertising. We have a modified experience for viewers using ad blockers

Wikia is not accessible if you've made further modifications. Remove the custom ad blocker rule(s) and the page will load as expected.