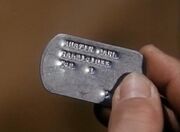 Carl Austin was an unseen character who was the biological father of Steve Austin.
He was in the Army Air Corp during World War II. While serving, his wife Helen gave birth to their son, Steve. Though he never saw his son, Carl often wrote letters to his wife in which he talked about seeing Steve and holding him in his arms for the first time. Next to his wife and son, flying was Carl's whole life.
On a special mission in February 1945, Austin was dispatched to fly a spy plane to Chungking. He carried a secret agreement between the Nationalist Chinese and the Russians. However, halfway across the Himalayan Mountains, the plane and its fighter escort were attacked by Japanese Zeros, downing the plane two miles from the Chinese border.
An Air Force file shows that Austin, having bailed out once the attack started, left his crew to die. However, a photo taken by a weather satellite twenty-nine years later leads Steve to discover that his father was not a coward. (The Coward)
Ad blocker interference detected!
Wikia is a free-to-use site that makes money from advertising. We have a modified experience for viewers using ad blockers

Wikia is not accessible if you've made further modifications. Remove the custom ad blocker rule(s) and the page will load as expected.