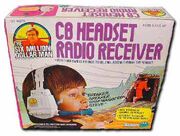 Hear Your Own Commands through the Headset!
A real CB radio that actually receives all 40 CB channels. Contained in a futuristically designed, adjustable headset that will fit all heads. Headset contains a hollow microphone unit which allows child to hear his own voice commands to Col. Austin through the headset unit. Radio is decorated with "Bionic" circuitry to add to the fun of pretend adventures. Operates on one 9-volt battery, not included. Ages 5 and up.
Ad blocker interference detected!
Wikia is a free-to-use site that makes money from advertising. We have a modified experience for viewers using ad blockers

Wikia is not accessible if you've made further modifications. Remove the custom ad blocker rule(s) and the page will load as expected.