Character played by: Hoyt Axton
Buck Buckley
Job/Career or Title
country-western musician
Spouse(s) (if any:)
Appearances
SMDM 
none
BW 
Road to Nashville
Reunion 
none
Buck Buckley was a musician who struggled to overcome personal problems that stood in the way of his success. Buckly became a star in country-western music after he met Tammy Dalton. She managed Buckley's career and protected his success. Buckley and Dalton fell in love and Buckley was loyal to Dalton despite her deception.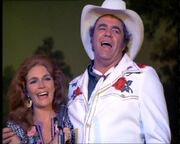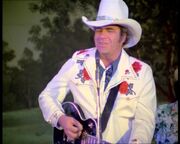 Song Lyrics
Lyrics to "Life's A Country Road", featured in this episode, "Road to Nashville".
Ad blocker interference detected!
Wikia is a free-to-use site that makes money from advertising. We have a modified experience for viewers using ad blockers

Wikia is not accessible if you've made further modifications. Remove the custom ad blocker rule(s) and the page will load as expected.