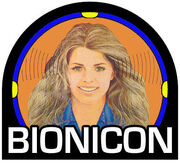 Bionicon 1.0 was the first science fiction convention with a central Bionic theme. Held at the Douletree Hotel in Tampa, FL., June 23 through 25, 2006. The guest list included Lindsay Wagner, Richard Anderson, Lou Ferrigno, Carmen Argenziano, Erin Gray, Herb Jefferson, Jr., Denny Miller, Marc Singer, and Kenneth Johnson. Events included celebrity autograph sessions, episode screenings, celebrity Q&A sessions, trivia games and contests, a live director's commentary by Kenneth Johnson on his Doomsday Is Tomorrow two-parter, and a celebrity dinner banquet which ended with a surprise birthday celebration for Lindsay Wagner.
Bionicon 2.0 is reported to be coming soon.
External Links
Ad blocker interference detected!
Wikia is a free-to-use site that makes money from advertising. We have a modified experience for viewers using ad blockers

Wikia is not accessible if you've made further modifications. Remove the custom ad blocker rule(s) and the page will load as expected.