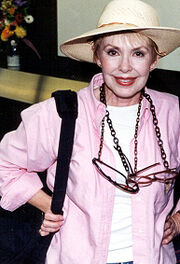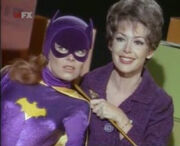 Biography
Barbara Rush (born January 4, 1927 in Denver, Colorado) began her film career in the 1950s with films such as It Came From Outer Space (1953), and Magnificent Obsession (1954). She won a Golden Globe in 1954 for "Most Promising Newcomer - Female". By the 1960s, Rush was guest starring in television series, including Peyton Place (1968 - 1969, where she played "Marsha Russell", love interest to Ed Nelson), Owen Marshall: Counselor at Law (1972), and Knight Rider (1982, as "Elizabeth Knight").
Trivia
Barbara Rush guest-starred as villainess "Nora Clavicle" in the 1960s Batman TV episode, "Nora Clavicle and Her Ladies' Crime Club" (18 January 1968; Season 3, Episode 19).
External links
Ad blocker interference detected!
Wikia is a free-to-use site that makes money from advertising. We have a modified experience for viewers using ad blockers

Wikia is not accessible if you've made further modifications. Remove the custom ad blocker rule(s) and the page will load as expected.