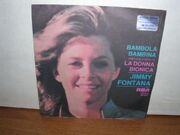 Bambola Bambina was a song by Italian singer Enrico Sbriccoli, also known as Jimmy Fontana. It was used as the theme song for the Italian-dubbed version of The Bionic Woman, or La Donna Bionica as the series was called in that country. The song was recorded and published in Italy in 1981.
Ad blocker interference detected!
Wikia is a free-to-use site that makes money from advertising. We have a modified experience for viewers using ad blockers

Wikia is not accessible if you've made further modifications. Remove the custom ad blocker rule(s) and the page will load as expected.