Character played by: Vincent Van Patten
Andy Sheffield
-
Appearances
SMDM 
The Bionic Boy
BW 
none
Reunion 
none
Due to Dr. Rudy Wells' experimental implants on his crippled legs, Andy Sheffield becomes the world's fourth bionic person.
Biography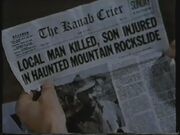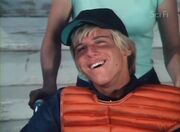 Childhood
Although he was only an average student in academics, he was considered one of the town's best athletes, alongside his rival Joe Hamilton.
Bionic Surgery
Andy was choosen by the OSI to receive a new experimental bionic implant that apprently didn't require the replacement of limbs; but rather the augmentation of existing body systems. To this end, Rudy Wells assembled a scientific and surgical team and with Steve Austin travelled to the boy's hometown to facilitate the process. After the surgery was performed and rehabilitative efforts complete, Andy walked as he normally would. Indeed, he showed increased stamina and atheletic ability.
Sequent events saw Steve Austin train the boy in the use of his new powers, but Andy soon outstripped Steve in terms of sheer speed and power. Andy's bionic implants soon began to become too powerful for him to control and would have eventually killed him. Rudy Wells neutralized the power source of the implants and saved the boy's life.
After these events, Andy was shown to still be able to walk on a limited form but needed to rest periodically. 
Relationships
Family
Friends and Colleagues
Judy Graham
Joe Hamilton - (often rival)
Steve Austin (mentor)
Deconstructed
Trivia
The character of Andy Sheffield was intended as a proposed spinoff series.
Ad blocker interference detected!
Wikia is a free-to-use site that makes money from advertising. We have a modified experience for viewers using ad blockers

Wikia is not accessible if you've made further modifications. Remove the custom ad blocker rule(s) and the page will load as expected.