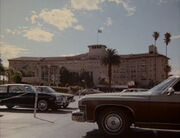 The Ambassador Hotel was the site of the Miss United States Beauty Pageant. The Pageant was hosted by Ray Raymond and sponsored by Belding Industries. Contestants registered for their room assignments, and roomed in the hotel's luxury suites with their chaperones. The Pageant itself took place in the hotel's auditorium. Jaime recovered a stolen microchip in the hotel's car park after a bionic tussle with a car belonging to Raymond and his henchmen. (Bionic Beauty)
Deconstructed
In 1968, Robert F. Kennedy was killed in the pantry of the main kitchen after giving a campaign speech.
The Hotel housed the famed Coconut Grove nightclub, which was renovated during the mid 1970s.
The Ambassador closed in 1989, and the land was purchased by the Los Angeles Unified School District. The Hotel was demolished in 2005 so that the district could build new school facilities.
External Links
Ad blocker interference detected!
Wikia is a free-to-use site that makes money from advertising. We have a modified experience for viewers using ad blockers

Wikia is not accessible if you've made further modifications. Remove the custom ad blocker rule(s) and the page will load as expected.