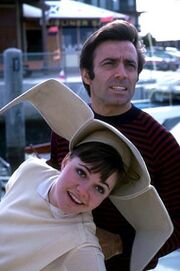 Biography
Alejandro Rey (b. February 8, 1930 - d. May 21, 1987) was born in Argentina. He began his acting career in South American television and film during the 1950s. In the U.S., Rey worked mostly in television, and is best remembered for his starring role in The Flying Nun, in which he played "Carlos Ramirez" (1967 - 1970). He also guest starred in many television series, including Knight Rider (1982), The Fall Guy (1983), and Dallas (1986). Rey died in Los Angeles, California as a result of lung cancer.
External Links
Ad blocker interference detected!
Wikia is a free-to-use site that makes money from advertising. We have a modified experience for viewers using ad blockers

Wikia is not accessible if you've made further modifications. Remove the custom ad blocker rule(s) and the page will load as expected.