In order to prevent a ruthless African dictator from remaining in power, Jaime must secretly switch a rigged computer element with one that will give fair results in an upcoming election.
Summary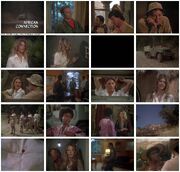 Quotes
Jaime: Harry, do you know of anyone else with a boat who could take me upriver?
Harry: You're out of luck. I've got the only other one around here.
Jaime: Well, then, it looks like I make a deal with you.
Harry: Forget it. I told you what happened to Jeff.
Jaime: Well, yes, but that...
Harry: Nothing you can say or do is gonna get me off my butt, through that door, and out to my boat.
Jaime: Five thousand dollars.
Harry: You've got a deal.
---
Harry: Arrangements have a way of getting screwed up in this part of the world, cookie.
---
Harry: How about that? Well first a hangover saved my life and now a shot of booze gives me the strength of a bull elephant. My life must be changing.
---
Harry: Didn't think The Princess had it in her? What do you think of her now?
Jaime: Old war trucks never die.
Harry: Don't like to admit you're wrong, do you?
Jaime: Nope, it's been a problem since childhood.
---
Duma: For my friends I offer food and shelter. My enemies are not deserving of my kindness. Now which are you?
---
Leona: Jaime, I want to thank you for all you have done, but... we will take it from here.
Jaime: Well... I really think I can do it better myself.
Leona: Why? Because you are white?
Jaime: No!
Leona: Blacks are tired of depending on whites to solve our problems! We have been betrayed too many times. We don't need outside help anymore.
---
Jaime: If it's alright with you, I will change my clothes and go back to work.
Leona: Yes, of course.
Jaime: (looks down at her dress in chagrin) Too bad. I was almost starting to feel feminine again.
Trivia
Unusually for Jaime, when faced with a firing squad, she tells Harry that she may be able to get out alive, but she would have to leave him to be shot.
Nitpicks
Gallery