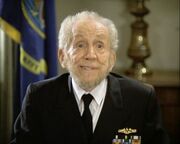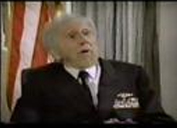 Admiral Richter is known for his unorthodox approach in military strategy. Steve Austin calls him the 'bad boy of the Navy'.
Oscar Goldman was Richter's Executive Officer for Intelligence, until he left the Navy. They are old friends. During the Cuban Missile Crisis, Goldman sat with Richter in a room together for 4 days and nights straight, then they went out and got drunk together when it was over.
Persuaded by Jaime Sommers and Steve Austin regarding a plan to rescue Goldman from Dr. Franklin's base, Richter dispatches the Stingray, a nuclear sub, to Saint Emil Island
Appearances
Ad blocker interference detected!
Wikia is a free-to-use site that makes money from advertising. We have a modified experience for viewers using ad blockers

Wikia is not accessible if you've made further modifications. Remove the custom ad blocker rule(s) and the page will load as expected.