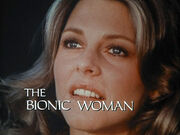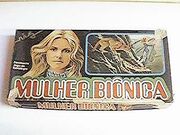 A Mulher Biônica (literally: The Bionic Woman) was the title used for the Portuguese-dubbed version of the Bionic Woman as seen in Portugal and Brazil.
Opening Narrations
"As seguintes informações são altamente confidenciais. Catálogo de recolocação biônica.
Jamie Sommers,
Sexo: feminino,
Idade 28 anos,
Ex tenista profissional,
Profissão atual: professora,
Residência: Ojai, Califórnia.
Gravemente ferida em acidente de pára-quedas.
Partes atingidas: ambas as pernas, braço direito e ouvido direito.
Processo da operação: recolocação biônica.
Autorização: Oscar Goldman.
Custo estimativo: confidencial."
Voice Actors
| Character | Voice Actor |
| --- | --- |
| Steve Austin | - Jorgeh Ramos / André Filho |
| Jaime Sommers | - Marlene Costa |
| Oscar Goldman | - Mauricio Barroso |
| Rudy Wells | - n/a |
Weblinks