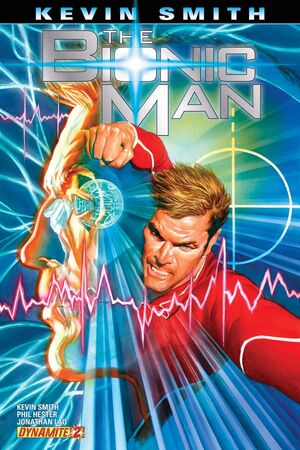 The Bionic Man, Vol.1 No.2 Chapter Two: A Man, Barely Alive. Based on a story by Kevin Smith. Script by Kevin Smith with Phil Hester. Art by Jonathan Lau. Colors by Ivan Nunez. Lettering by Simon Bowland.
Summary
While test piloting the Daedalus, an experimental stealth bomber, something goes wrong and Colonel Steve Austin crash-lands in a fiery blaze. Meanwhile, Oscar Goldman meets with fellow members of the organization known as O.S.I. to discuss the recent massacre at their Bionics facility. In Russia, two mysterious industrialists exploit a piece of stolen technology to enhance their productivity. And the evil force behind the bloody O.S.I. raid is revealed to be a maniacal cyborg named Hull.
Variant Cover Gallery
Several variant covers were released in limited quantity.
Interior Preview Gallery
Before the issue hit retailers, this preview hit the web.
Ad blocker interference detected!
Wikia is a free-to-use site that makes money from advertising. We have a modified experience for viewers using ad blockers

Wikia is not accessible if you've made further modifications. Remove the custom ad blocker rule(s) and the page will load as expected.