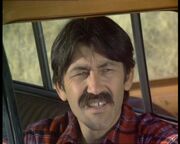 The 1st driver was flagged down on the road by rifle-wielding lion hunter,Charlie Keys. The 1st Driver thought Keys was hunting out of season. Keys asks the driver to use his Citizen's Band radio to spread the word that the lion he is tracking has been killing their steers. This information is later found to be false.
Appearances
Ad blocker interference detected!
Wikia is a free-to-use site that makes money from advertising. We have a modified experience for viewers using ad blockers

Wikia is not accessible if you've made further modifications. Remove the custom ad blocker rule(s) and the page will load as expected.